Google parent Alphabet plans to "recalibrate" its investment in data centers due to Covid-19 and the slowing economy.
CEO Sundar Pichai told employees in a staff-wide email published by Bloomberg that the company also plans to "significantly reduce" hiring because of the virus.
Microsoft, meanwhile, will freeze hiring in all but unspecified 'specific areas,' Business Insider reports.
The big slowdown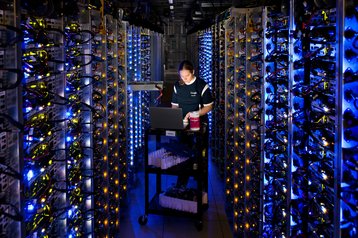 "We believe now is the time to significantly slow down the pace of hiring, while maintaining momentum in a small number of strategic areas where users and businesses rely on Google for ongoing support, and where our growth is critical to their success," Pichai said.
"By dialing back our plans in other areas, we can ensure Google emerges from this year at a more appropriate size and scale than we would otherwise. That means we need to carefully prioritize hiring employees who will address our greatest user and business needs."
Last year, the company hired around 20,000 employees, and had expected to do the same this year.
Google responded in a similar way during the 2008 financial crash, but this time it faces the added issue that the current crisis makes it much harder to train new staff and provide them with secure equipment to work remotely
Google's revenue has been impacted by a slump in ad sales during the coronavirus slowdown, but the company is more than able to weather any drop. In August last year, the company passed Apple to become the public company with the largest cash reserves on hand - at $117bn.
"Beyond hiring, we continue to invest, but will be recalibrating the focus and pace of our investments in areas like data centers and machines, and non business essential marketing and travel," Pichai said.
Google had planned to invest $10bn in US data centers and offices the year, slightly down from its $13bn spend in 2019 - out of a total $23.5 billion in capital expenditures.
In September, it said it would spend $3.3 billion on European data centers over the next two years.
Despite apparent plans to slow its data center spend, cloud services are booming as people spend vastly more time working and relaxing at home.