Facebook is expanding its Los Lunas data center in New Mexico again.
The company announced this week it is expanding the campus by another two buildings, taking the site to almost 3.8 million-square-foot (353,000 sqm) and its investment to almost $2 billion.
"Los Lunas has been a terrific location for our data center since we broke ground five years ago this month. During that time, we have erected nearly 20,000 tons of steel, poured 126,792 cubic yards of concrete, recycled 88 percent of construction waste, and had 1,100 construction workers on-site at peak," the company said in a blog post.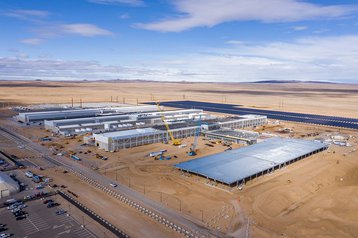 Facebook broke ground on the campus in 2016, beginning with a single $250 million facility built by Fortis. The company opened a third data center at Los Lunas last year.
Reports surfaced in February that the company was hoping to begin another $800 million expansion to the campus, and was asking for more tax breaks from local officials. At the time locals voiced concerns about the company's water use.
This week also saw the social media giant announce new power purchase agreements (PPAs) in the state; a 190MW project in Valencia County and a 50MW project in Sandoval County. As previously reported by DCD, these two deals had been challenged by the local regulator over the impact the deal might have on other customers. These concerns have seemingly been fixed, and FB now has 10 renewable energy projects in New Mexico to power its operations in the state.
As part of the announcement, Facebook also said it was announcing a new goal to restore 200 percent of the water its data center consumes into the New Mexico watersheds; the firm has promised to be water positive by 2030.
"To date, we have invested in a total of five local water restoration projects, and in 2020, these projects restored approximately 64 million gallons of water right here in New Mexico," the company said. "Through these projects, our Los Lunas Data Center already restores more water than it consumes, and as we continue to grow, we want to make sure we are doing our part to replenish New Mexico's water resources through additional partnerships with local environmental organizations."
2021 has seen Facebook invest heavily in its data center infrastructure. This year the company brought its Eagle Mountain, Utah, and Huntsville, Alabama, sites online and broken ground on its new data center campus in Mesa, Arizona.
As well as new opening new campuses, the company has announced a total of 12 new data center buildings at its existing Altoona, Papillion, Prineville, Los Lunas, Huntsville, and Eagle Mountain campuses, totaling more than five million sq ft (464,500 sq m) of new space.
The social media firm is also taking up to 250MW of capacity at QTS' Hillsboro campus in Oregon.
More in Construction & Site Selection