DigitalBridge & IFM Investors have completed the $11 billion acquisition of data center firm Switch Inc.
The deal was first announced in May 2022. With the closing of the deal, Switch has been taken private and is no longer listed on the New York Stock Exchange.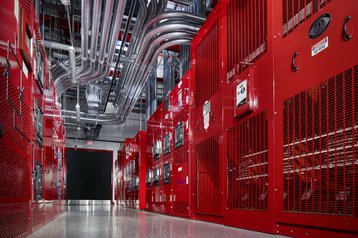 Switch joins DataBank, Scala Data Centers, Landmark Dividend LLC, Vantage Data Centers, and AtlasEdge as part of the DigitialBridge portfolio. DigitalBridge beat out a number of competitors for Switch, including Brookfield Asset Management.
"We are excited to embark on the next chapter of Switch's evolution in partnership with DigitalBridge and IFM Investors, two leading digital infrastructure investment firms," said Rob Roy, founder and CEO of Switch. "With their strategic expertise and financial resources, Switch is ideally positioned to meet growing customer demand for the world's most advanced and environmentally sustainable data center infrastructure."
Switch operates its large 'Prime' data center campuses in Reno, Las Vegas, Grand Rapids, and Atlanta. It is building a large data center in Texas, where it also bought Data Foundry for $420 million.
Jon Mauck, senior managing director at DigitalBridge Investment Management, added: "We are delighted to partner with Rob and the Switch team as DigitalBridge continues to grow our portfolio of high-quality digital infrastructure assets globally. With a shared vision for the future of communications infrastructure, Switch, IFM Investors and DigitalBridge are ideal partners, and together we will scale Switch's business domestically and internationally to meet the robust enterprise demand for mission-critical digital infrastructure."
Mauck's mention of taking Switch international is an interesting pivot for the company. Last year, Switch sold its stake in a European data center venture based on the designs of Switch's Tier IV Las Vegas facility. The Milan facility is now part of Stack Infrastructure, while Switch retains a stake in the SuperNAP facility in Bangkok, Thailand.
Kyle Mangini, global head of infrastructure at IFM Investors, said: "IFM Investors is excited to join DigitalBridge to support Switch in its next phase of growth. Switch's excellence in data center design and operations, along with its industry leadership in sustainability, makes the company an ideal fit for IFM Investors as we seek to deliver returns to our investors and maximize the retirement savings of the millions of working people they represent."
Switch also has an Edge business, teaming up with Dell to build Edge data centers at FedEx locations across the US.
In 2020, Switch announced it would launch a security robotics business for the data center sector, but has quietly removed all reference to the project from its website. Representatives of Switch previously declined to comment to DCD about the status of the initiative, once pitched as a "stand-alone security platform."
In a recent interview with DCD, DigitalBridge CEO Marc Ganzi said of Switch: "What Rob and his team does is differentiated, in the ecosystem that he's created for corporate users that don't want public cloud, but really want privacy and security and on-demand capacity. It's a very unique offering. I've looked at every data center business in the world over the last decade. And I find that the Switch model is probably one of the most unique models out there.
In the last few years, the data center industry has become increasingly private. KKR & GIP took CyrusOne private for $15bn, American Tower took over CoreSite for $10.1bn, and Blackstone picked up QTS for $10bn in 2021 alone. Global Switch is expected to soon go private for around $11bn.