Data center developer CloudHQ has acquired around 100 acres in Virginia's Culpeper County, and plans to develop a build-to-suit campus spanning up to 2.1 million sq ft and 60MW.
The Daily Progress reports the company paid $12 million—nearly twice the assessed value—for almost 100 acres along McDevitt Drive in the Town of Culpeper.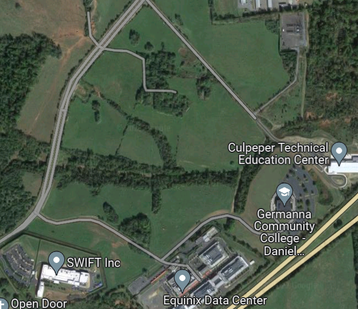 The company acquired the two parcels of land in September via SAAM Ventures LLC, according to county property records.
Culpeper County Economic Development Director Bryan Rothamel said this month the plan is for up to 2.1 million square feet with multiple buildings on a campus setting. CloudHQ is actively marketing and will build as leased.
Rappahannock Electric Coop can currently provide 30MW of power to the site, and there are plans to rebuild the current line servicing this area, doubling line capacity, Rothamel said.
Dominion Energy will apply through the State Corporation Commission for extra capacity to serve the site, extending the high-voltage lines in Stevensburg to CloudHQ's land.
The previous site owner was 14521 McDevitt Holdings, formerly Crown Jewell or Power Grid, which bought the property in 2018 for $6.5 million, according to tax records.
The parcels are located in the Culpeper County Technology Zone, which offers developers tax rebates.
Swift Inc has an operations/data center in Culpeper close to the newly-acquired site, as does Equinix.
Northern Virginia is the world's major data center market, but the trend has largely passed Culpeper County by. There are four Equinix data centers in Culpeper County (CU1-4) that opened around 14 years ago and the Swift operations facility, but more could be coming soon.
AWS was recently granted permission to rezone 243 acres of land as a precursor to developing a data center campus consisting of two buildings spanning up to a combined 430,000 square feet (40,000 sqm). The county Board of Supervisors approved the rezoning 4-3 in April, despite the county Planning Commission previously voting to recommend denying the application. However, local residents are now suing county supervisors hoping to have the decision overturned.
Northern Virginia land-use attorney John Foote, representing Amazon, has previously said the county's existing technology zones, put in place in 2006, lack adequate power for today's data centers.
"If Amazon could have pulled it off in a tech zone it would have," he said.
In June, David Martin, president of software development firm AttoTek, Inc filed to rezone around 88 acres at his property along Brandy Road and Stevensburg Road in Culpeper County's Brandy Station that would pave the way for more than 700,000 sq ft 65,000 sqm) of new data center development.
DuPont Fabros Technology co-founder and CEO Hossein Fateh stepped down from the company in February 2015, and in 2016 founded CloudHQ. The company says it has built and leased 2.4 million square feet and 320MW of data center capacity since its formation. In 2020 Fateh formed Cloud Capital to acquire, manage, develop, and operate data centers.
CloudHQ has existing and planned data center developments in Ashburn and Manassas, Virginia; London and Oxfordshire, UK; Milan, Italy; Frankfurt, Germany; and São Paulo, Brazil. The company is in the process of developing large-scale campuses in Mount Prospect, Illinois; and outside Paris, France.
Last month Mount Prospect village board members gave CloudHQ final approval to begin development work at the former United Airlines headquarters site.
In January Corporate Office Properties Trust (COPT) sold a data center in Manassas, Virginia, to CloudHQ's investment arm for $222.5 million.
More in Construction & Site Selection