Residents in Culpeper County in Virginia are suing county supervisors over the recent rezoning of land to allow for a data center development by AWS in Stevensburg.
Through its Marvell Developments subsidiary, Amazon filed to rezone 243 acres of land as a precursor to developing a data center campus consisting of two buildings spanning up to a combined 430,000 square feet (40,000 sq m). The land, at 20420 Germanna Highway, is currently under agricultural use as a commercial horse farm/equestrian center. The county Board of Supervisors approved the rezoning 4-3 in April, despite the county Planning Commission previously voting to recommend denying the application.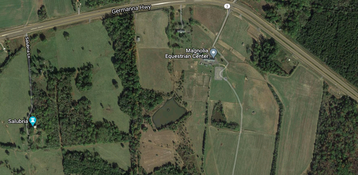 However, as reported by the Star-Exponent, residents are now seeking to nullify the rezoning and prevent the development.
In their lawsuit, filed this week with the Culpeper County Circuit Court, landowners living beside the Amazon site allege that the board's April vote illegally spot-zoned the land contrary to the county's 2015 comprehensive land-use plan. They say the rezoning violates local and state law.
The rezoning of hundreds of acres of agricultural land for industrial development is out of character with the predominantly rural farming area, the petitioners allege. The nearest property with more than an acre of industrially-zoned land lies 6.5 miles to the west, they said.
The plaintiffs also allege the supervisors approved Amazon's electrical substation without proper public review or governmental process.
"Instead of looking at horses in pastures, I would be looking at a 50-foot building with lights and security fencing," landowner Alan Davis said. "No landowners can feel safe or be willing to invest in property if the county can be allowed to spot zone whatever they want."
"I'm 76 years old and have lived in Stevensburg all my life, and it is a real shame that the Board is doing this," Ralph Pritt, who lives across State Route 3 from the site, added. "I built my home here because of the beautiful countryside. Now it will be like living in a Wal-Mart parking lot."
The plaintiffs argue the campus should be built in one of the existing five technology zones the county has designated for data centers.
"We welcome Amazon and other data centers in Culpeper, but we don't want farmland rezoned to industrial," said another landowner, Chip Russell. "There are five technology zones in Culpeper and existing data centers in the town. We've asked but have never gotten a good answer as to why they won't build on existing industrial land in the tech zones."
AWS is looking to invest around $500 million developing on land currently home to the Magnolia Equestrian Center, which opened in 2008 and, operates on property owned by one Irene Carnes.
The site is close to a number of historic buildings and sites from the American Civil Warm including Hansbrough's Ridge, which was used a winter encampment for the Union Army of the Potomac.
Carnes told the Culpeper Star Exponent that at her age she can no longer run the farm and neither can her 62-year-old daughter.
"That will be gone - it has to be," she said of the equestrian center. "I hope you will see fit to put a data center there."
Northern Virginia is the world's major data center market, but Culpeper County has largely eschewed the trend. There are four Equinix data centers in Culpeper County (CU1-4) that opened 14 years ago.
Northern Virginia land-use attorney John Foote, representing Amazon previously said the county's existing technology zones, put in place in 2006, lack adequate power for today's data centers.
"If Amazon could have pulled it off in a tech zone it would have," he said.