United Airlines is reportedly selling its office campus in Mount Prospect, Illinois to CloudHQ.
Journal & Topics reports that the company has bought the campus in the Elk Grove area outside Chicago to make way for a new $2.5 billion, 1.5 million square feet (140,000 sqm) data center development.
Mount Prospect Community Development Director Bill Cooney confirmed to J&T that CloudHQ intends to purchase all of United's property along Dempster and Algonquin roads at Linneman Road, with the exception of the airline's data center on the site.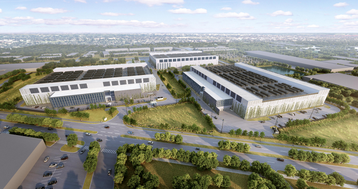 According to documents filed with the Mount Prospect planning commission, CloudHQ hopes to demolish the existing buildings and construct three data center buildings, each about 560,000 sq ft (52,000 sqm) and more than 80MW. The filings include plans for an on-site substation.
The 2020 and 2019 reports from the North American Data Centers suggest CloudHQ leases a large amount of wholesale space and capacity to Google, Microsoft, and Facebook, totaling more than 60MW each to the three companies.
The data centers would occupy the former United Airlines campus at 1200 E. Algonquin Road and be built over three phases. Two of the three data centers would have 31,630 sq ft (3,00 sqm) of office space, while the third would have approximately 26,600 sq ft (2,500 sqm).
Demolition of the existing campus will take up to one year, and each data center takes approximately 18 months to construct.
United Airlines has occupied the spot for decades but began to move out in 2007, relocating staff to central Chicago. The site now operates as the base for United's IT and minor training operations. In 2013, United constructed a 172,000 sq ft data center; the data center is not within the plans submitted by CloudHQ.
The Elk Grove area is already a major data center hub in the region and development continues to increase. Prime Data Centers is currently in the process of developing a 150MW campus in the area, while Skybox is building a 30MW facility.