US Real Estate Investment Trust (REIT) Corporate Office Properties Trust (COPT) has sold a data center in Manassas, Virginia, to CloudHQ's investment arm for $222.5 million.
COPT this week announced it had sold 100 percent of COPT DC-6 (DC-6), to an investment vehicle managed by Cloud Capital, an affiliate company of CloudHQ.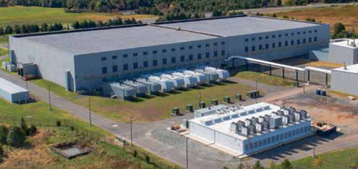 According to a COPT brochure, the 233,000 sq ft two-story facility at 9651 Hornbaker Road in Prince William County was built in 2010, has 100,000 sq ft of raised floor space, and 19.25MW of capacity. COPT acquired it from Power Loft in 2010 for around $115 million.
While COPT has stakes in more than 4 million sq ft worth of powered shell/single-tenant data centers, the company noted that DC-06 was the only asset in its Wholesale Data Center reporting segment and its only multi-tenant data center.
"We are pleased to transfer DC-6 to the Cloud Capital team, whose extreme professionalism supported a smooth underwriting process and imbues us with confidence that our tenants will be well-served," said Stephen E. Budorick, COPT's President & CEO. "Furthermore, this sale provides our company with cost-effective equity capital to fund our highly successful and value accretive development pipeline, simplifies our corporate profile by removing the only multi-tenant data center from our portfolio, and further concentrates our capital allocation to Defense/IT Locations."
The company noted that there was no debt on the asset, and plans to use the proceeds to fund 1.8 million square feet of development projects it said were 94 percent leased.
Cloud Capital is a global investment management firm founded in 2020 by CloudHQ founder and CEO Hossein Fateh. Fateh was also co-founder and former CEO of DuPont Fabros Technology.
"We are pleased to have worked with the COPT team on this transaction and are excited to add the DC-6 facility to the Cloud Capital portfolio," said Fateh. "Northern Virginia is the largest data center market in the world and continues to see high levels of tenant demand. Our highly skilled team, with a proven track record of successfully managing data center investments, will be looking to add value through various asset management initiatives in the short and medium-term. In addition, we are actively looking at several interesting acquisition opportunities in the US and internationally which we are excited about."
Last year COPT formed a new joint venture with funds affiliated with Blackstone Real Estate to buy two single-tenant data center shell properties.
Fateh founded CloudHQ in 2016 after stepping down from DuPont Fabros. The company says it has built and leased 2.4 million square feet and 320MW of data center capacity since its formation. He formed Cloud Capital to "acquire, manage, develop, and operate data centers."
CloudHQ has existing and planned data center developments in Ashburn, and Manassas, Virginia; London, UK; Milan, Italy; Frankfurt, Germany; and São Paulo, Brazil. The company is in the process of developing another large-scale campus in Ashburn as well as in Mount Prospect, Illinois, and outside Paris, France.