US data center firm CloudHQ is reportedly planning to build a large 140MW+ data center campus in Lisses outside Paris, France.
First reported by JDN, the company reportedly wants to build two data center buildings each comprising 53,000 sqm (570,000 sqft) and 24 data halls, to be located within the Leonardo da Vinci business park in the Essonne region, southeast of the capital city.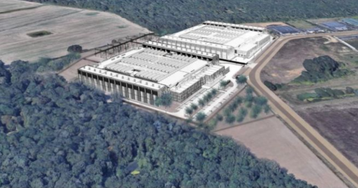 The campus would cover 13.7 hectares and sits on a greenfield site. The Ile-de-France Regional Environmental Authority Mission (MRAe) report cited by JDN said each building could be fed up to 120MW by the local RTE substations.
Update: CloudHQ has reached out to clarify the critical load of each building will be 74.4MW and the previously reported 240MW is for connected utility load to the campus. The company also clarified each building will measure 53,000 sqm. DCD apologizes for the error.
As well as two substations, CloudHQ is looking to install 114 backup generators and install 104 cooling units. The first building would take around 22 months to complete and data halls would be developed in groups of four. The second building would take another 22 months and full build-out is estimated to be reached in Q1 of 2031.
The MRAe noted that approval was initially refused due to the lack of recovery of the heat produced by the servers, the regional prefect granted approval on January 2021 saying the campus will connect to the future Corbeil-Essonnes heating network.
Results of the public inquiry will be known in early November, after which the next step will be the agreement of the building permit by the city of Lisses.
DuPont Fabros Technology co-founder and CEO Hossein Fateh stepped down from the company in February 2015, and in 2016 founded CloudHQ. The company says it has built and leased 2.4 million square feet and 320MW of data center capacity since its formation. In 2020 Fateh formed Cloud Capital to acquire, manage, develop and operate data centers.
Interxion and AWS are both developing data centers in Essonne.