Developers are hoping to build a technology park and data center near Didcot, Oxfordshire.
The plans, submitted by Reef Group to Vale of White Horse District Council, would see the development of a Didcot Technology Park on a 23-hectare site located in Appleford, on the northern edge of Didcot.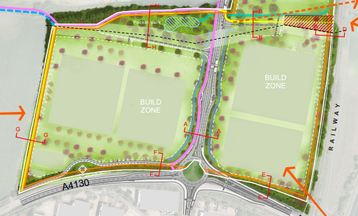 Plans for a Didcot Technology Park were first submitted in 2016, but have been revised this month. The developers are seeking a Local Development Order (LDO) which would simplify much of the planning process. If granted it would allow the council to authorize the whole site development at once, rather than in a piecemeal fashion.
The LDO would allow for up to 110,000 sqm (1.18 million sq ft) of data center development, and up to 20,000 sqm (215,000 sq ft) of battery storage. Previous application filings suggest the developer is or was looking to develop up to 48,000sqm of data center space, 30,000 sqm of office space, up to 40,000 sqm of research and development uses and B1c light industrial uses, and/or 10,000 sqm of battery storage. Filings also suggest up to 27 emergency back-up generators would be needed to cater for the data center.
The LDO would also require the developers to focus on sustainability; Reef is aiming to develop a green park by including landscaping, water features, wet woodland habitat, green walls and roofs, cycle routes and footpaths, and electric vehicle and electric bike charging points.
Councillor Debby Hallett, cabinet member for corporate services and transformation at Vale of White Horse District Council, told the Herald Series: "We support LDOs because they encourage the types of business and buildings that would be suitable for a site and help to ensure our aims to tackle climate change are taken into consideration.
"We hope that this development will bring new jobs to support the economic recovery following the pandemic and this consultation is one of the ways residents and businesses can give us their views on how new the site is developed in the future."
Public consultation is open for the application until May 25.
Another data center campus is in development at the nearby Didcot Power Station. An 84MW campus was proposed in 2019; one single-story facility will span 8,692 sq m (94,000 sq ft), while a two-story one will take up 20,800 sqm (224,000 sq ft).
AWS is seemingly working with CloudHQ to develop the facility: DCD was the first to reveal AWS' involvement in the project, while Dgtl Infra has reported CloudHQ's involvement and the delays the project is seemingly facing.
A combined coal and oil power plant, Didcot A opened in 1970, but was demolished between 2014 and 2020. At peak, it was capable of generating 1,440MW.
More in Construction & Site Selection