An unnamed company has proposed building two large data centers on the site of the former Didcot A Power Station, in Oxfordshire, UK.
DCD can reveal that the firm, operating under the pseudonym Willow Developments LLC, is actually Amazon Web Services.
A combined coal and oil power plant, Didcot A opened in 1970, but was demolished between 2014 and 2020. At peak, it was capable of generating 1,440MW.
For more breaking data center news, features, and opinions, be sure to subscribe to DCD's newsletter
AWS wants to turn a coal power plant into a data center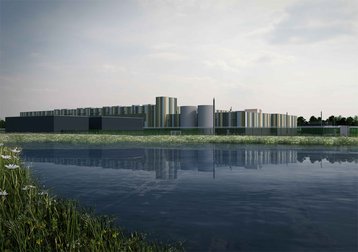 As Willow, Amazon initially proposed building a data center on the site back in 2019.
At the time, planning documents show a proposal to build two data centers of up to 25m in height, with a total floor space of up to 54,760 sq m (590,000 sq ft).
The company also wanted to deploy 52 3MVA diesel generators for back-up power, four of which would be secondary back-up generators. Two additional 1MVA generators were proposed for powering administrative sections of the site.
Diesel storage capacity was estimated at approximately 950,000 liters of diesel, representing 24 hours of capacity at full load.
In 2020 following Covid-19 delays and feedback, Willow revised its plans, reducing the height of one of the buildings to a single story and dropping the number of generators from 54 to 34.
Specific planning documents detailing how the changes impact total floor space have yet to be published. An employee at the South Oxfordshire District Council told DCD the documents had been filed, but still needed to be assigned a case officer before they could be made public. Representatives of the data center project did not respond to requests for the planning application.
Ahead of the release of the new planning documents, Willow has begun a charm offensive, with over 3,000 leaflets sent to nearby homes by public affairs company Tristan Fitzgerald Associates, working on behalf of Willow.
"We were sent a leaflet as councilors in advance of it being published," Didcot Mayor Eleanor Hards told DCD. In addition to the leaflet, a site has been set up by Tristan Fitzgerald that gives a brief overview of the project, and solicits public comment which it says it will share with local authorities..
The site expounds on the benefits of the data centers - 400 temporary construction jobs for the first data center over 15 months, and 100 full-time jobs across both facilities.
But the website and the leaflets do not disclose who is behind the project, referring only to Willow Developments LLC. "I don't know who it is," councilor Hards said.
Amazon, like many hyperscale data center companies, has tried to obfuscate its involvement. This is often done to help negotiate tax breaks and planning permission without the baggage attached from being a trillion-dollar business that locals may find controversial.
But in the project's pitch to residents, Amazon accidentally lets its identity slip.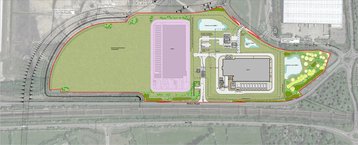 "The operator has a commitment to achieve net zero carbon emissions by 2040, ten years ahead of the Paris Agreement," the site states. "As part of this commitment, the operator is investing and innovating in efficiency in every aspect of their operations and is on a path to be powered by 100 percent renewable energy by 2025."
Amazon has pledged to achieve net zero carbon emissions by 2040, and expects its data centers to be fully renewable by 2025.
But, more concretely, the site continues: "The operator sees major investments in renewable energy as a critical step toward addressing its carbon footprint globally, and its newest renewable energy project in Europe will be the largest wind corporate power purchase agreement in the UK. Located in Scotland, once complete, the new wind project will provide 50MW of new renewable capacity with expected generation of 168,000MWh of clean energy annually, enough to power 46,000 UK homes."
Amazon signed the 50MW deal to build a wind farm in Scotland back in 2019, as the largest wind corporate power purchase agreement in the UK.
No other company meets all three renewable criteria described in the pitch. Amazon declined to comment.
"I have not been told that it's Amazon," Hards said. When asked whether learning that Amazon was behind the project would change her view of the project she said "it wouldn't make any difference."
She continued: "The problem I have with all data centers is that the public just don't realize the amount of power they use, and need to take that into account. Basically online and paperless is not as green as people think it is."
Hards said that while the company has promised to be renewably powered via PPAs, the "message was slightly vague on the leaflet. If it was being powered by [closer] solar farms or wind farms, I think it would be preferable."
With the latest planning documents yet to be released, it is not entirely clear what the final IT capacity will be. But assuming that of the 34 generators, 32 are still 3MVA, and four are still backup, that would put the site at around 84MW, with an extra 2MW for office power load.