The Vale of White Horse District Council's planning committee has approved a two-building data center development on the site of the Didcot Power Station.
The company behind the data center project has yet to be officially revealed, but in February DCD was able to confirm that Amazon Web Services was behind the 84MW campus.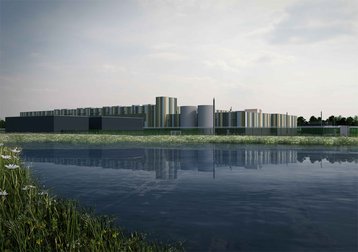 The project was first proposed in 2019, under the shell corporation Willow Developments LLC. Following Covid-19 delays and local feedback, AWS reduced the height of one of the buildings to a single story and dropping the number of generators from 54 to 34.
The single-story facility will span 8,692 sq m (94,000 sq ft), while the two-story one will take up 20,800 sq m (224,000 sq ft).
The facility is expected to bring around 100 jobs to the area, but faced some pushback from locals at Sutton Courtenay, who worry about increased traffic.
"There is pressure on this whole area from an expanding Didcot, MEPC Milton Park, FCC Recycling Landfill and from numerous warehouses. However, this land is reserved commercial and industrial use on the local plans," ward councillor Richard Webber said to the planning committee.
"Given that we need data centers, and by their nature they attract fewer people and less traffic than other developments, this scheme is welcomed in principle."
But, he added, there are "a number of problems – first, there are two applications here, and there is much local concern that by accepting the first, smaller data center, the second, much larger, could pass by default.
"There is every likelihood that a customer will be found for the first one, but there is much less certainty for the second."