Rostelecom has launched the second phase of its Udomlya data center.
The Russian telco's data center subsidiary, Rostelecom-DPC, said this week it has opened a new 8MW facility comprising with capacity for 800 racks. The company said it had constructed a new fiber optic line to ensure resiliency.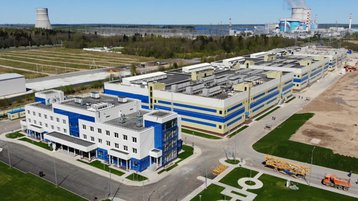 Yury Samoilov, First Deputy General Director of Rostelecom-DPC, general director of DataLine, said: "The ever-growing demand for our capacities in Udomlya is a great testament to the fact that clients are appreciating the potential of this DC despite certain skepticism at the beginning due to its remoteness from Moscow. The first phase was filled up quickly, and 50 percent of the second phase is already reserved."
The facility, located on the grounds of the Kalininskaya Nuclear Power Plant in Tver, was launched in 2019. A joint project between Rostelecom and state-owned nuclear energy company Rosenergoatom, the facility will offer more than 4,000 racks across five build phases. When the facility was first announced in 2015, the companies said that the site could be expanded to up to 10,000 racks, with 80MW of power. Rostelecom has a 30-year lease agreement on the land, with three buildings each spanning 11,500 sq m (123,800 sq ft).
The company said the construction of the third 800-rack module will be launched after the once the current phase is leased.
Rostelecom operates data centers in Moscow, Novosibirsk, St. Petersburg, and Chita. Further facilities are planned in Murmansk. As well as opening a number of new facilities last year, the company recently announced plans for a 55MW hyperscale data center in Moscow.
Meanwhile, another subsidiary of Russia's Nuclear Energy Corporation Rostacom that is building a 16MW data center in Innopolis is seemingly behind schedule. First announced in September 2020, construction was due to begin first in the second quarter of 2021 and open this year.
However, Realnoe Vremya reports that the timeline has shifted to next year. Preparatory groundwork has seemingly not even begun: RV reports that Atomdata-Innopolis recently filed an RFP for a contractor to clear 381 stumps and cut down bushes on an area of 8,000 square meters (86,100 sq ft).