QTS has been named as the company behind a massive data center development project in Fayetteville, Georgia.
First reported by the Citizen, QTS recently acquired 600 acres of land on Fayetteville's west side as the site of a planned data center, the news was confirmed by the Fayette County Development Authority (FCDA).
The sale price for the 600 acres was $153.8 million, equating to approximately $250,000 per acre, according to the FCDA. QTS is yet to make an official announcement about the project.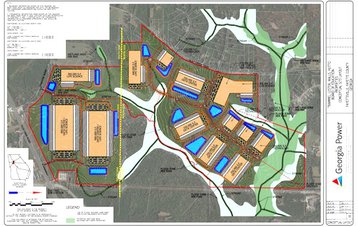 Previous reports on the development – which were not attributed to QTS at the time – suggest the site could extend to 250MW and 1.5 million square feet. The company is expected to invest more than $1 billion in developing the site.
The site is currently farmland, bordered by Highway 54, Flat Creek Trail, and Tyrone Road, and has been labeled as suitable for a business park in the city's comprehensive plan. The city hopes it will provide 100 jobs and also sit well alongside an existing film production company, Trilith Studios.
The idea of a data center on the site has been in discussion for some years, the most recent proposal from Oceanic Data Centers was approved in 2020. The land was originally considered by Facebook in 2018, before the giant settled in Newton County to the East of Atlanta.
QTS has two existing campuses in Georgia; the 1033 Jefferson Street NW site in Central Atlanta, spanning more than 100 acres and offering more than 275MW of capacity; and a 385,000 sq ft (35,760 sqm) facility to the northeast of the city in Suwanee. Fayetteville, sat in Fayette County, is located around 20 miles south of Atlanta.
Since QTS was acquired by Blackstone last year, the company has quietly been expanding across the US. As well as plans to expand its Henrico facility in Virginia, its Piscataway data center in New Jersey, and its Fort Worth facility in Texas, it recently purchased nearly 400 acres in Phoenix, Arizona, for $255 million. It is also looking at developing 800 acres at the controversial PW Digital Gateway site in Virginia's Prince William County.
QTS is also expanding into Denver. The company quietly added a 'Denver Data Center Campus' to its website in late May. The company says it plans to offer 177MWs of critical power capacity on 67 acres of land at 1160 N. Gun Club Rd, Aurora, Colorado, 80018. The address matches that of a one-time JPMorgan data center. The company has not commented on the facility and did not respond to requests for more information about the facility.
In Europe, the company has bought more land in the Netherlands and is reportedly looking at developing a site in Spain. Again, no official announcements have been made.