Fayette County, Georgia is to consider annexing 412 acres for a $1 billion data center projecct in Fayetteville, 18 miles south of Atlanta.
The Fayetteville City Council will this week consider annexing four parcels of land on Tyrone Road for a campus, which could extend to 250MW and 1.5 million square feet. The idea of a data center on the site has been in discussion for some years, the most recent proposal from Oceanic Data Centers was approved in 2020. The land was originally considered by Facebook in 2018, before the giant settled in Newton County to the East of Atlanta.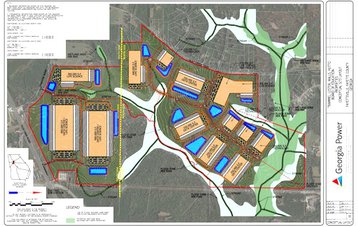 The meeting will take place Thursday.
Maybe this time?
"Discussions [with Facebook] never materialized into an actual sale, much less construction — but the annexation request is the farthest such talk has gotten so far," reports local news site The Citizen. "The annexation request, however, is being brought by the Fayette County Development Authority, so maybe this time the project will make to the ground-breaking phase."
The site is currently farmland, bordered by Highway 54, Flat Creek Trail and Tyrone Roadand has been labelled as suitable for a business park in the city's comprehensive plan. The city hopes it will provide 100 jobs and also sit well alongside an existing film production company, Trilith Studios.
"The total of capital expenditure over the life of the project is projected to surpass $1 billion, which will significantly increase tax revenue for the City of Fayetteville, says the city report. "The current parcels generate $1,387 in property tax annually. This will increase to over $200,000 annually after the first phase of development."