Facebook plans to spend $750 million over five years on a data center campus outside Atlanta, Georgia, its ninth in the United States.
The site in Staton Springs, Newton County, will consist of two data centers totaling 970,000 square feet (90,000 sq m), which will be operational by 2020. Further investment at this location could reach nearly $2.5bn by 2029.
Just don't delete the NRA Facebook page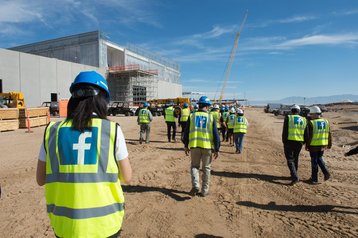 "We are thrilled to be making Georgia our new home and look forward to a long and strong partnership with the state, Newton County, and our new community," Rachel Peterson, VP of data center strategy at Facebook, said. "As a company, Facebook is committed to creating positive impact at the local level. That means hiring, partnering and investing locally."
The Newton Data Center will be powered by renewable energy thanks to a power purchase agreement with Walton Electric Membership Corporation - the consumer-owned utility that is planning to install hundreds of acres of solar panels in Georgia.
Peterson continued: "We are excited to work with Walton EMC to bring hundreds of megawatts of renewable energy to the electrical grid in Georgia."
Governor Nathan Deal added: "We appreciate Facebook's leadership for recognizing Georgia as a state that serves not only as a major hub for general business, but also as a place where tech firms can be successful in the future."
On Tuesday, the Atlanta Business Chronicle reported that the governor moved the announcement forward by two weeks for reasons unknown.
Georgia's state government is in the midst of a spat with Delta Airlines, eliminating a proposed $50m tax incentive after Delta removed a promotional deal for National Rifle Association members following the latest tragic school shooting.
The public conflict between the state and the private corporation has led to concerns over Georgia's attitude towards businesses, and governor Deal was quick to highlight Facebook's investment.
He said: "Georgia's business-friendly climate and world-class technological infrastructure continue to attract innovative companies like Facebook. It is fitting that the No. 1 company in the world in terms of active users has chosen the No. 1 state for business for this project."
Deal, who is not running for reelection due to term limits, has criticized the attempts to hurt Delta's bottom line, an effort headed by Lt. Gov. Casey Cagle, the presumed frontrunner in the governorship race.
Deal told The New York Times: "Ours is a welcoming state - the epitome of 'Southern Hospitality.' We were not elected to give the late-night talk show hosts fodder for their monologues or to act with the type of immaturity that has caused so many in our society to have a cynical view of politics."