Officials in Fayette County, Georgia, have voted to annex and rezone over 400 acres for a data center office park, despite passionate opposition from local residents.
Fayetteville Council this week voted 5-to-0 for the second time on the proposals, which will see four parcels of land on Tyrone Road converted to allow a campus that could extend to 250MW and 1.5 million square feet.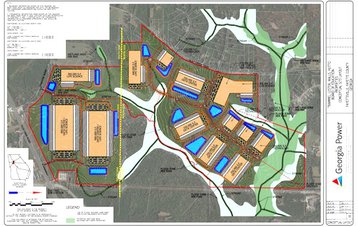 The annexation request had been brought by the Fayette County Development Authority; the next step is a city application for approval of a Development of Regional Impact statement to the state.
The Citizen reports that around two dozen local residents spoke during the council meeting, with some of them crying as they spoke urging officials not to allow a data center next to long-established rural residential neighborhoods.
The council has previously said the City's Comprehensive Plan has identified the area 'as suitable for business park' and would create jobs for the local area.
Mayor Ed Johnson thanked the full house of citizens for participating, promising "full transparency" in all the city's dealings with the annexation. At one point, Johnson reportedly threatened to remove one woman for questioning the motives of the Fayette County Development Authority.
The idea of a data center on the site has been in discussion for some years, the most recent proposal from Oceanic Data Centers was approved in 2020. The land was originally considered by Facebook in 2018, before the giant settled in Newton County to the East of Atlanta.
More in Construction & Site Selection