Meta, the company formerly known as Facebook, is expanding its Mesa data center campus in Arizona.
"In August 2021, we were thrilled to add Mesa, Arizona, to our family of data centers. Just nine months later, we're excited to announce that we are expanding the Meta Mesa Data Center campus with three new buildings, reaching more than 2.5 million square feet," the company said in a Facebook post this week.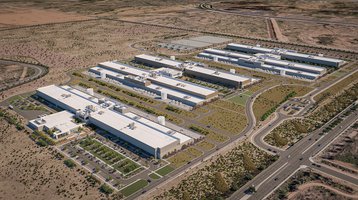 Meta first announced and broke ground on the $800 million Mesa campus in August 2021, with phase one of the 396-acre site comprising two buildings spanning 970,000 sq ft (90,000 sqm). Facebook negotiated planning permission for the data center under the pseudonym Redale LLC.
The first building of the project is expected to be delivered in 2023 and the entire project will be finished in 2026.
The social media firm said the news raises its investment in Arizona to more than $1 billion. To power the facility, Meta said it is working to bring 450MW of new solar energy to Arizona, and has partnered with Salt River Project to find three new projects in Pinal County.
"Mesa has been an exceptional home for Meta, thanks to its excellent access to infrastructure, strong pool of talent, access to new renewable energy resources and great set of community partners, and we're excited to be expanding our presence here," said David Williams, community development manager for Meta. "Today's expansion announcement, together with our donation to the Mesa College Promise program, further underscore our commitment to Mesa.
During the planning phase, before Facebook was revealed as the applicant, critics like Mesa Vice Mayor Jenn Duff pointed to the huge water use of the data center, in a region with increasingly low supplies.
In this week's post, Meta said that it has partnered with local environmental non-profits to restore approximately 200 million gallons of water per year in the Colorado River and Salt River basins, and has restored over 25 million gallons of water in Arizona to date.
"Meta's decision to locate and grow in Mesa brings hundreds of job opportunities and a significant financial investment to our city," said Mesa Mayor John Giles.
After a large expansion spree in 2021, 2022 has seen Meta announce plans to expand its Gallatin data center campus in Tennessee, its DeKalb data center campus in Illinois, and its New Albany campus in Ohio. The company has also announced new US data center sites in Idaho, Texas, and Kansas City, along with a new campus in Spain.
More in Construction & Site Selection