The European Investment Bank (EIB) has loaned OVHcloud €200 million ($208m) to fund future developments.
The EIB, jointly owned by the member states of the European Union, has advanced a €200 million credit facility to support the France-based cloud provider's expansion in Europe. OVHcloud aims to provide a local sustainable cloud service alternative in Europe as an alternative to US and other cloud providers, which will support European privacy standards.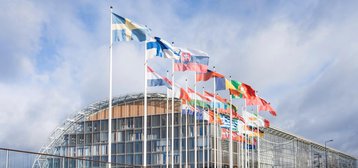 The investment comes as OVHcloud is embarking on global expansion, including a replacement facillity for its Strasbourg data center which burnt down in 2021.
The EIB's mission is to support the environment and infrastructure projects, and it played a lead role during the Covid-19 pandemic and the 2008 financial crash. It was founded in 1958, at the start of the European Economic Community, which became the European Union. In 2021, it issued €95 billion in loans.
This is the EIB's first investment in the cloud market, and the announcement explains that it "demonstrates the EIB's commitment to actively support European digital players, and strengthen "Europe's strategic autonomy in new technology infrastructures".
It is also in line with European climate goals, as OVHcloud has committed to make sure its data centers are climate neutral by 2030, as part of the Climate Neutral Data Centre Pact.
This breaks down to being net-zero in Scopes 1 and 2 (emissions directly from OVHcloud and its energy use) by 2025, and to include Scope 3 (its indirect emissions) by 2030. OVHcloud says Scope 3 represents 60 percent of its carbon footprint, mostly from component manufacturing.
For its part, OVHcloud has announced plans for worldwide growth, which will include 15 new data centers opened by the end of 2024. Ten of these 15 new sites will open in Europe.
"The cloud is the essential building block for the digitalization of all aspects of our economic and social lives," said EIB Vice-President Ambroise Fayolle. "By contributing to the financing of the most innovative players in Europe, the EIB is fully in line with European policy priorities: increasing our competitiveness and fostering our technological sovereignty. This €200 million loan to the European leader in the sector is a significant demonstration of Europe's commitment to placing our digital expertise at the service of our strategic autonomy."
Michel Paulin, CEO of OVHcloud, said: "This additional financial capacity provided by the EIB contributes to our Group's strategic roadmap and will enable us to promote a cloud that respects our European values faster, higher, and stronger."
OVH offers cold tape storage
As part of its bid to offer a European cloud alternative, OVHcloud is putting up a long-term storage service, similar to Amazon Glacier or Google Nearline. OVHcloud's Cold Archive storage will be based on IBM tape drives. The service uses IBM's 3592-60F tapes which hold 20TB per cartridge, and feed data out at 400MB/sec, it comes with an S3 API to ease the comparison with Glacier.
The service will be operated entirely in France, from four separate data centers at least 100km apart, and is designed to satisfy European data sovereignty. The project also involves French data migration specialist Atempo. The service will be formally launched on 6 December in Paris.
In recent months, OVHcloud has shown a new cooling system, which combines water circulation with immersion cooling that uses dielectrics. the company claims its data centers operate at very high efficiencies, with PUEs between 1.1 and 1.3, and a water consumption of 260 ml/kWh, which compares with a target of 400 ml/kWh by the Climate Neutral Data Centre Pact.
The company has also backed its claim to be a European champion, by bringing an antitrust complaint against Microsoft in Europe, claiming that Microsoft's licenses for cloud-based products such as the Office productivity suite unduly favor Microsoft's own Azure cloud, because Microsoft software works better and is available more cheaply on Azure than other clouds.
In October, the company announced that its prices would rise by 10 percent in 2023, citing inflation and increasing energy costs due to the Russian invasion of Ukraine.
This week, OVHcloud has also announced it would give a little back: its bare-metal dedicated servers will be available for half price on Black Friday, and there will also be reductions on public cloud and hosting plans.
The company still has a cloud on the horizon: it has yet to settle an class action compensation claim from more than 140 customers who lost data in the the disastrous data center fire in 2021, which destroyed its SBG2 data center in Strasbourg.
Despite initially promising a swift explanation of the causes of the fire, OVHcloud later said it would issue the explanation in 2022, after the authorities had provided their reports.
OVHcloud has maintained silence on the subject throughout the year, although reports have now been published from accident investigators BEA-R and the local Bas-Rhin firefighters, which say that, among other things, SBG2 had wooden floors and no fire prevention system, and that water was detected near electrical systems.