French cloud provider OVHcloud has filed an antitrust complaint against Microsoft in Europe.
OVHcloud, along with other European tech firms, complained to the European Commission last summer, saying that Microsoft's licenses for cloud-based products such as the Office productivity suite unduly favor Microsoft's own Azure cloud, because Microsoft software works better and is available more cheaply on Azure than other clouds, according to a report in the Wall Street Journal.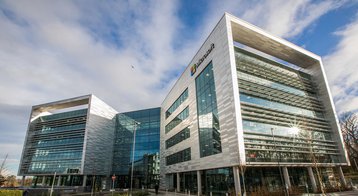 The complaint was apparently filed in summer 2021, but has only just been reported.
Abusing its position?
"Several companies including OVHcloud are taking action to ensure a level playing field among cloud services providers operating in the European Digital Single Market, by filing a complaint with DG Competition of the European Commission against Microsoft," said a statement from OVHcloud. "According to the plaintiffs, through abusing its dominant position, Microsoft undermines fair competition and limits consumer choice in the cloud computing services market."
OVHcloud is establishing a position as a European alternative to cloud providers based in the US and China, promising that it will offer services that meet European privacy regulations, and European customers' preference to hold data locally, away from the reach of foreign security services.
The complaint alleges that this job is being made harder, because Microsoft's software is licensed in a way that makes it more expensive to use on other clouds than Azure, and also claims that the software doesn't perform so well on other clouds, according to the WSJ. DCD has asked OVHcloud and Microsoft for more details.
Although OVHcloud is the first to break silence and reveal the complaint, the company has said that other as-yet-unnamed European parties are also involved
The move in some ways echoes antitrust activities against Microsoft more than two decades ago which then focused on Microsoft using its operating system monopoly to privilege various software products. In the early 1990s, Novell complained that Microsoft gave its Office Suite an unfair advantage over WordPerfect software, and then in the later 1990s, rival browser makers complained Microsoft favored its Windows Explorer browser unfairly. The courts ruled against Microsoft in United States v Microsoft Corp, 2001.
The EU followed up with Microsoft Corp v the EU Commission, a decision, which forced Microsoft to release a version of Windows with no media player.
Recent actions against tech giants Meta, Google, Apple, and Amazon have concentrated on privacy issues, and the WSJ remarks that in recent years, Microsoft has "largely avoided" the scrutiny leveled at its rivals, thanks to a perception that it learned its lesson from the earlier cases.
This time round, Microsoft's Azure cloud is not a dominant platform - though it is a fast-growing service, running in second place to Amazon Web Services. Instead, OVHcloud and its unnamed partners are raising a concern that the company is using its strength in business applications, to give Azure a boost.
In 2020, Slack complained that Microsoft was bundling its Teams collaboration software unfairly, and in 2021, Nextcloud said its cloud storage service was facing unfair competition due to Microsoft bundling OneDrive with Windows.
Microsoft is currently hoping for regulatory approval for a giant acquisition of Activision Blizzard designed to compete with Google.
Today, Microsoft President Brad Smith is meeting online (Teams, we assume) with EU competition commissioner Margrethe Vestager, to talk about issues in digital.
OVHcloud, for its part, is waiting on a class action suit being brought by businesses that suffered in the disastrous fire which destroyed its SBG2 data center in Strasbourg last year.
In response to a request from DCD, Microsoft sent a statement saying its cloud services are very useful (which wasn't the point we were querying): "The cloud market is growing and European cloud providers have built successful business models using Microsoft software and services. Cloud providers enjoy many options to provide cloud services to their customers using Microsoft software, whether purchased by the customer or the partner. We're continuously evaluating how we can best support partners and make Microsoft software available to customers across all environments, including those of other cloud providers."