One year after the devastating fire which destroyed an OVHcloud data center in Strasbourg, the local firefighters have issued a report with strong criticism of the French operator's facility.
The Bas-Rhin fire service says that the SBG2 data center had no automatic fire extinguishing system and no general electrical cut-off switch. The facility also had a wooden ceiling rated to resist fire for only one hour, and a free-cooling design that created "chimneys" that increased the fire's ferocity.
The whole building went up in flames on March 10 2021, and other data centers on the site were also damaged. More than 130 customers have joined a class-action suit alleging that OVHcloud failed its responsibility and has not given enough compensation to businesses that suffered. The company has not revealed the cause of the fire, saying that it had to wait for official reports.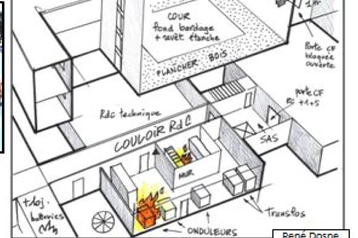 Serious flaws at the site were reported in ZDnet.fr in April. The report is examined today in Le Journal Du Net (JDN).
Three hours to cut off the power
According to the report, firefighters on the scene found electrical arcs more than one meter long flashing around the door to the power room, and it took three hours to cut off the power supply because there was no universal cut-off.
"The flashes were impressive and the noises deafening," says the report (Google translation). The power room had a wooden ceiling designed to withstand fire for one hour, and the electrical ducts were not insulated.
The fire broke out at 12:40am, and the local utility Electricité de Strasbourg arrived on the scene at 1:20 am, but "encountered difficulties in cutting off the electricity", reports JDN, and was unable to cut the site off for three hours, until 03:28, with current still flowing into the power systems inverters. This meant that some OVH customers found that their servers continued running after the fire started.
Once the fire escaped from the power room, it grew rapidly. The report says that "the two interior courtyards acted as fire chimneys". JDN claims the spread of fire may have been accelerated by the site's free cooling design, which is designed to encourage the flow of outside air through the building to cool the servers.
Update: In response to a request from DCD, OVHcloud said that it could not respond in detail to the fire report, as it is still working with its insurers and government agencies on a formal report. The company did point out that the fire report is not from a data center expert, but was not able to give a date for when its own report would be released.
The company has still not received a formal letter from Ziegler, the law firm working on a class action on behalf of OVHcloud customers affected by the fire.
Below, we have converted the PDF fire report into an image gallery.