103 firms have joined the class action claiming damages for losses caused by the fire which destroyed OVHcloud's SBG2 data center in Strasbourg in March 2021. The law firm says it has been contacted by fifty more OVHcloud customers, while four large players are taking action individually.
Paris law firm Ziegler & Associés says OVHcloud has offered a flat rate of €900 ($1,000) compensation each, while its clients suffered a total of more than €9.2 million in damages and lost data caused by the fire at the French cloud provider's facility, according to an update in Journal du Net (JDN).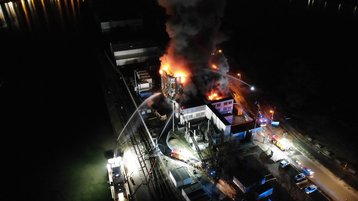 The four companies taking individual action each have 10,000 or more staff, and include one player listed on the CAC 40 French stock market index.
Deadline - end of February
Those wishing to join the class action have until the end of February, at which point, Ziegler will send a letter to OVHcloud setting out their complaints. OVHcloud has previously declined to comment on the complaint until this letter is received.
Jocelyn Ziegler, founder of Ziegler & Associates, told JDN that it had calculated the losses of 102 of the 103 companies already signed up and was in contact with more players who wish to join the action.
The class action allows smaller companies to take collective action, and so far only includes six companies with more than 500 employees, although Ziegler expects the average size of the complainants (and their claims) to increase, explaining to JDN that public bodies need approvals to join the process, and larger companies with more than 1000 staff must consult their board of directors.
Each client on the eventual list will have its losses individually assessed, including direct financial costs and damage to their brands, before Ziegler sends its letter. After that, it will give OVHcloud a month to come to an out-of-court agreement, or else take it to the commercial court.
By coincidence, this is around the first anniversary of the fire, which also crippled the SBG1 data center next to SBG2.
"The objective is to demonstrate that OVH's situation is no longer tenable, and that it will have to go through an amicable discussion if it does not want a losing trial," Ziegler told JDN (Google translate)
Ziegler already has the first version of OVH's defense, given to it by a client who contacted the cloud provider directly. OVHcloud says the event was unforeseeable, it took reasonable precautions and, in any case, cloud services have an inherent risk that the customer should have understood. Ziegler argues that this does not match with OVHcloud's promises, and suggests that its fire prevention systems were inadequate.
"Organizations that have joined the class action are fed up with OVH's reaction. Most have received letters in which the group indicates that it is disengaging from its responsibility or is limiting itself to a limitation of liability clause. They ask that OVH recognize the damage and compensate them," Ziegler told JDN.
In a statement, OVHcloud has said it acted quickly to help customers, and has offered commercial support, with only comparatively few customers taking the legal route.