OVHcloud has opened a new data center on the Strasbourg site where a disastrous fire destroyed two facilities in 2021.
The new €30 million ($30.5m) SBG5 data center includes features such as an automatic fire extinguishing system which are standard on many modern data centers, but were apparently absent from the French cloud provider's SBG2 facility before went up in flames on March 2021, according to preliminary fire reports.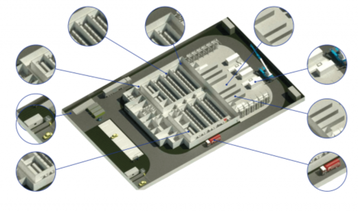 Eighteen months after the original blaze, OVHcloud has still not published a final report on the cause of the disaster. Customers are suing the company for more than €10m in a class action suit claiming the company's fire preparations, and its compensation, were inadequate.
OVH plans expansion
Any discussion of the fire appears to have been absent at the event, attended by dignitaries reflecting OVHcloud's position as the largest cloud provider in Europe. Speakers included Bruno Le Maire, France's Minister Delegate for digital transition and telecoms, and European Commissioner Thierry Breton.
Instead, OVHcloud announced plans for 15 new data centers by 2024, with new facilities in France, Germany, Canada, India, and Singapore.
It also promised a new resilient storage service in France called Cold Archive, based on four redundant mini-data centers spread across the country, all at least 200km apart. The facilities will hold a resilient tape-based archive developed with IBM and Atempo. Cold Archive is due to launch in November 2022.
SBG5 is based on a "hyper-resilience plan" that OVHcloud created in the aftermath of the fire. The 1,700 square meter (18,000 sq ft) facility will have 19 compartmentalized rooms separated by masonry walls designed to resist fire for up to two hours.
It will have a gas fire extinguishing system rated to APSAD R13, along with VESDA smoke detection rated APSAD R7.
The site will have seven energy rooms and three battery rooms, all located outside of the building, in shipping-style containers.
All these features address specific issues which have been mentioned in reports into the original fire. The official French fire investigator BE-RI confirmed earlier reports that the fire started in a UPS battery room, and suggested that moisture near power systems may have been to blame for it.
Earlier, the local Bas Rhin firefighters published a report which said the SBG2 data center was built with flammable wooden ceilings over the basement power rooms, and used a free-cooling design with "chimneys" which increased air circulation - but also accelerated the spread of the fire. The firefighters also noted the data center had no automatic fire extinguishing system.
Both reports noted that the power system was designed to maintain an electrical supply through thick and thin - which meant that two hours after the fire broke out, electricity was still being supplied to the blazing building.
OVHcloud has yet to issue any statement on the cause of the fire, despite a promise to do so promptly, given by OVHcloud founder Octave Klaba within days of the original blaze. A promise to set up a laboratory to research data center fires has also not been delivered.
The French cloud provider abruptly reversed its original openness in May 2022, when postponed any statement on the cause of the blaze "until 2022," claiming that it had to wait for official investigators to report.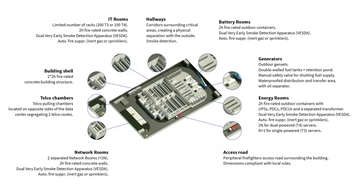 At least 150 OVHcloud customers, unhappy with the company's fire preparedness and the level of compensation offered to victims who lost data and whose businesses suffered, have joined a class action suit led by law firm Ziegler Associates, which is claiming damages of at least €10 million.
A joint statement from Bruno Le Maire and Jean-Noël Barrot underlined OVHcloud's importance to European efforts to support cloud locally instead of relying on services based in the US and China: "The opening of this new data center, which is less energy-consuming, marks an essential step in the development of OVHcloud. Thus, the company positions itself at the heart of the French and European digital sovereignty the Government has been helping to build since 2017. It demonstrates the resilience and innovation of the French cloud ecosystem and bolsters the choice that France has made to retain full control over its data."
OVHcloud CEO Michel Paulin said: "The opening of SBG5 is a strong symbol of this industrial strategy, which allows us to champion the European values of an open, trusted, and sustainable cloud, and this, to our customers around the world. Our local anchorage and our constant investment in the territories allow us to strengthen our position in the employment areas to bring in new skills."
Alongside the new SBG5, OVHcloud has announced plans for a separate dedicated facility for snapshots of backup data so customers will not lose data in any future failure. After building a backup facility in France, the company plans to roll out the idea to its other locations.
OVHcloud's data centers feature proprietary water cooling and the company says its new SBG5 site will use less water than previous OVHcloud facilities sites, consuming just 200ml of water per kWh of operation, a water usage effectiveness (WUE) ratio lower than the 400ml target of the Climate Neutral Data Center Pact.
The data center's power usage effectiveness will be around 1.1 to 1.2, which again is lower than the target of the Pact, a grouping of European operators making voluntary efforts to move towards environmental neutrality.
Other data center announcements include a tenth data center (RBX10) at its flagship campus in Roubaix, France. The company will also set up a Paris Availability Zone in the first half of 2023, and open a data center in Limburg, Germany in Q3 2023. OVHcloud also plans to increase its campus in Beauharnois, Quebec, with a ninth data center (BHS9), along with a new data center in Toronto in 2023.
The company also has plans for its first data center in India, in Mumbai, before the end of 2023, the year, as well as a second data center in Singapore in 2023.