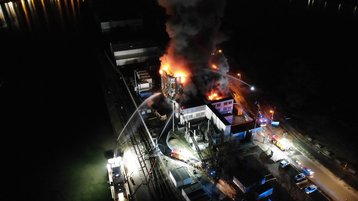 "The supplier came and changed a lot of pieces inside UPS7, and they restarted it in the afternoon. It seemed that it was working, but in the morning we had the fire," said Klaba in the video.
Klaba does not say the UPS is the definite cause. "We don't have all the answers today," he said. The OVHcloud staff responded to alarms at 11.42 pm on Tuesday, but the affected part of the data center had already filled with smoke: "Two minutes after, they took the decision to leave, because it was too dangerous."
The firefighter's thermal cameras found UPS7 and UPS8 on fire, but further data will be extracted from on-site cameras: "We have 300 cameras in Strasbourg," said Klaba. "We expect to have all the answers about how it started. We will give you all the information."
Klaba's video promises that replacement servers will be brought online quickly: the company has stepped up production at its Roubaix factory where racks are constructed according to OVHcloud's own design, so it can deliver 2,500 servers per week, and should have 10,000 new servers within a month.
The SBG2 used an older design than most other OVHcloud facilities, Klaba explained, based around "hosting towers" that contained servers in metal cubes designed for efficient cooling. "SBG2 is an older generation of our data centers that was built in 2011," he explained. "based on our researches of the impact on the environment."
OVHcloud, originally called OVH, was founded in 1999, and adopted water-cooled servers early in its lifetime, before an expansion initially based on data centers built from shipping containers. In 2011, SBG2 was one of the first of a new generation, which installed servers within cubical metal tower structures, to benefit from convection cooling.
Following that, OVH moved to a simpler horizontal rack design, constructing some new data center buildings such as SBG3 and SBG4. "SBG3 is a totally different generation of the data centers. It was not affected at all because it is a totally different construction."
Before 2011, OVH's data centers, including previous facilities at Strasbourg, were built from stacks of shipping containers. In 2017, the company suffered a prolonged outage in which the Strasbourg campus lost power for a day, in an incident that also took out connectivity to the company's Roubaix facilities. After this, OVH dismantled its container-based facilities, replacing them with permanent buildings, and then moving to a practice of making facilities within existing factory buildings.