Amazon Web Services (AWS) is looking to expand its data center footprint in Northern Virginia with a new development in Loudoun County's Stone Ridge.
First reported by BizJournal, AWS is planning three data centers on its 90-acre parcel located at 42139 Reeds Farm Lane, southwest of Dulles International Airport.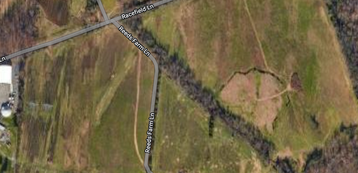 Total building size wasn't disclosed, but the facilities would be two or three stories tall, according to the publication.
Amazon's data center arm acquired the parcel from an affiliate of White Peaks Capital in July 2019 for $116.4 million. A White Peaks affiliate acquired the same property from an entity controlled by JK Moving Services founder Chuck Kuhn for $98.67 million the same day before it was sold to Amazon.
Amazon also owns two nearby parcels, one with data centers already on it, acquired at the end of 2021 for $146 million. Microsoft owns a large plot nestled between the two AWS sites.
BJ reports that the site is outside Dominion's crunch area, and is set to house a substation from the Northern Virginia Electric Cooperative (NOVEC). NOVEC acquired a parcel of land on the site in May for $7 million from the Inova Health Foundation, and applied to the county for a permit for that purpose in September.
Amazon already has a significant presence in Northern Virginia and continues to expand in the area. As well as acquiring more land in Sterling and Aldie in Loudoun County, plus Prince William County's Gainesville, the company is looking to expand in Fauquier County's Warrenton, Culpeper County's Stevensburg, Fairfax County's Chantilly, and Prince William County's Manassas, as well as Bristow.
The company even sought to expand into neighboring Maryland. AWS had hoped to develop a number of data centers in Frederick County, but pulled out after local officials said it couldn't meet the cloud company's aggressive timelines. This was partly due to the fact zoning changes were required and such amendments couldn't be made on the eve of county elections; county officials have since amended local zoning laws.