AWS has filed to build a new data center in the Northern Virginia town of Warrenton.
First reported by InsideNova, AWS has filed to build an approximately 220,000-square-foot (20,400 sqm), single-story data center in Warrenton at the intersection of Blackwell Road and Lee Highway.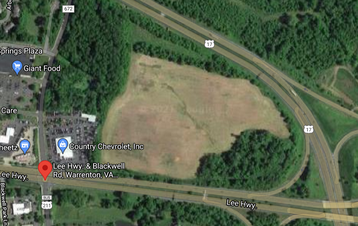 Amazon revealed it wanted to buy the plot and build a data center in Warrenton in June of 2021, but only if the town was able to change zoning laws to allow for such buildings in the area. The company was said to be "very interested" in Warrenton.
AWS acquired the 41.7-acre plot of land in Fauquier County, for $40 million in September 2021, after the town changed its zoning laws to allow for data centers at the behest of the cloud giant.
However, the move is unlikely to lead to a rush of data centers in the town; The new AWS site is one of only two parcels that town staff say could be suitable for a data center. The other is a 28.8-acre former Sivaco wire factory at 615 Falmouth Street.
AWS has a data center on the DoD's nearby Warrenton Training Center campus, built in 2016.
The application follows Dominion Energy's proposal — which it submitted within a week of Amazon's application — to build a substation nearby. Amazon noted the site would utilize public water and connect to the town's sewer system, but the company would pay for the required infrastructure investment.
Amazon already has a significant data center presence in Northern Virginia across Loudoun, Fairfax and Prince William Counties. As well as Fauquier, it is looking to expand in Culpeper County – though that is being strongly opposed by local residents – and was previously exploring the possibility of developing in Frederick County in neighboring Maryland.