AWS has bought a 41.7-acre plot of land in Warrenton, Fauquier County, for $39.7-million.
Fauquier Now reports the company closed the deal for the site – located on Blackwell Road, Lee Highway, and the Route 17 Spur – last week.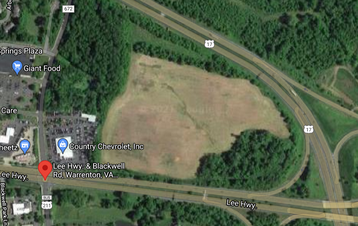 The deal works out at $952,000 per acre and is reportedly the largest real estate deal in the history of the North Virginian county. The land was bought from Weissberg Investment Corp (WIC), which develops and manages real estate in the Greater Washington, DC region.
AWS has previously stated it plans to build a data center on the site, but is yet to file planning documents with local officials.
"Amazon has not submitted an application for a data center or provided town staff with a layout or design," Town Manager Brandie Schaeffer told Fauquier Now. "Based on my understanding of the timeline, there is no rush, but we could see the initial application before the end of the year."
Amazon revealed it wanted to buy the plot and build a data center in Warrenton in June, but only if the town was able to change zoning laws to allow for such buildings in the area. The company was said to be "very interested" in Warrenton.
In July local officials approved new zoning rules that would allow data centers to be built in the town via special use permit approval from the town council. However, the move is unlikley to lead to a rush of data centers in Warrenton; The new AWS site is one of only two parcels that town staff say could be suitable for a data center. The other is a 28.8-acre former Sivaco wire factory at 615 Falmouth Street.
AWS has a data center on the DoD's nearby Warrenton Training Center campus, built in 2016. It also owns and operates a large number of facilities across the rest of Northern Virginia, including nearby Haymarket and Manassas, as well as Ashburn, Chantilly, and McNair.
More in Cloud & Hyperscale
More in Construction & Site Selection