Microsoft has acquired a 66-acre property in Arcola, Northern Virginia, for $93.7 million - or $1.4 million per acre.
According to Loudoun County's public zoning map, the land is zoned for Planned Development-Industrial Park. In 2014, Loudoun's Board of Supervisors approved the Data Center Zoning Ordinance, adding data centers as a permitted use to districts zoned as commercial light industry or planned development of an office park, research and development park, industrial park or general industry.
The data center land grab continues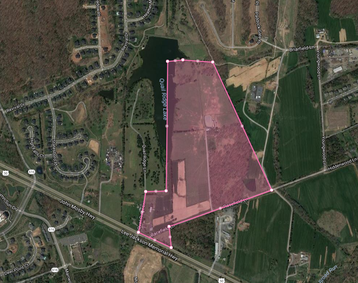 According to The Washington Business Journal, the Arcola Business Park LLC at 24282 Quail Ridge Lane was jointly owned by St. John Properties Inc. and owner of Sterling's JK Moving Services, Chuck Kuhn, who bought it in 2017 for $12.9 million.
Property in neighboring Ashburn, known as Data Center Alley, has reached an all-time high, with sites selling for as much as $2 million per acre, despite worries in the industry that obtaining permits to dig fiber routes will soon be a physical impossibility.
Digital Realty last year bought 13 acres of land worth $2.14 million per acre in Ashburn, while Cologix spent almost $38 million (or $1.68m an acre) on 22.6 acres in Ashburn that same year.
It's no surprise then that neighboring districts are also seeing prices rise, with operators drawn by the density of fiber infrastructure, low energy costs, and alluring tax incentives.
Microsoft, the world's second-largest cloud provider, already owns 33 acres of land in Leesburg, located north of Ashburn, which it bought in 2018 for $73 million, later submitting plans to build a data center campus there.