AWS has acquired three office properties in Sterling, Virginia, for more than $30 million.
It is the third acquisition of a low-rise office property the company's data center unit has made in Sterling this year, with all three sites located within walking distance of one another.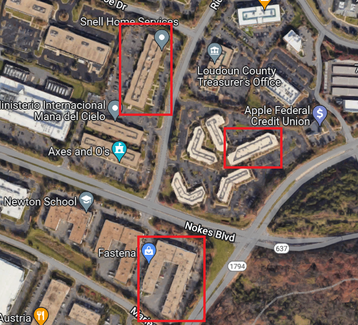 BizJournal reports, via county records, that Chantilly-based commercial real estate firm Clarke-Hook Corp. sold three adjacent buildings in Sterling to Amazon Data Services Inc. on June 15 for nearly $30.8 million total.
The Loudoun Commerce Center buildings are located at 45965, 45969, and 45975 Nokes Blvd in Loudoun County. The three buildings total more than 170,000 sq ft (15,800 sqm) across almost 15 acres.
The company hasn't commented on the purchase or plans, but Nicola Magley, an employee of the Newton School, a private, non-profit education institution at 45965 Nokes said the school has been told the building will be converted to a data center.
"We have a two-year lease," Magley said, adding its lease runs through August 2024. "Other than that, it's kind of up in the air."
Clarke-Hook Corp. bought the first two parcels for $775,000 in 1994, and the third for an undisclosed amount in 1999, according to property records.
45965 Nokes sits on 4.2 acres and spans 38,418 sq ft; 45969 Nokes sits on 4.3 acres and spans 54,392 sq ft; and 45975 Noke sits on 5.8 acres and spans 72,094 sq ft.
While AWS often buys large greenfield sites across Virginia, this is the third time it has bought a collection of adjacent low-rise offices in Sterling in 2022.
In February it acquired 46000, 46010, and 46020 Manekin Plaza for around $20 million; the three properties totaled around 222,000 sq ft (20,600 sqm). That same month, the company acquired 21660, 21670, and 21680 Ridgetop Circle for a combined $26.4 million; the site totals around 129,500 sq ft (11,950 sqm).
All three office plots are within a mile of one another.