Aligned has officially announced plans to expand its Plano campus in Texas.
As reported by DCD earlier this month, Aligned has filed with the Plano planning commission to expand its Plano campus with a second building. The company officially announced the expansion this week.
The company said DFW-02 will stand at 220,000 sq ft and offer 36 MW of critical capacity across 185,000 sq ft of data hall space. The facility will stand adjacent to Aligned's DFW-01 data center.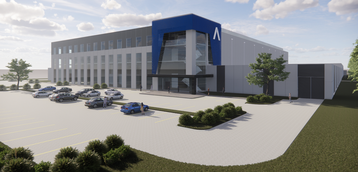 "The Dallas-Fort Worth metroplex has seen a steady rise in corporate relocations and expansions into the area. DFW is experiencing a record year of data center absorption as it continues its growth as a vital interconnection hub for major cloud providers, large financial and insurance firms, and top-tier technology companies," says Andrew Schaap, CEO of Aligned. "The region's booming industrial market, dense and diverse connectivity infrastructure, access to talent, pro-business environment, and abundant and affordable power, make Dallas an ideal location for Aligned to further expand its hyperscale data center campus footprint."
Aligned currently operates a facility single-story 100,000 sq ft (9,300 sqm) facility at 2800 Summit Avenue. The company is hoping to build a three-story, 220,000 square foot (20,440 sqm) addition to the 19-acre site. Plano staff have recommended the commission grant approval for the project.
The company's DFW-01 facility was renovated and launched in 2015. The existing building dates to the 1980s and was originally an office and manufacturing plant for Memory Tech Inc.
2022 has seen Aligned announce plans for new developments in Sterling, Virginia; Salt Lake City, Utah; and Phoenix, Arizona; buy land at Quantum Loophole's gigawatt campus in Maryland; and complete projects in Chicago, Illinois, and Salt Lake City.
Earlier this year, the company extended its sustainability-linked loan by more than $1 billion.
Aligned' said DFW-02 is the latest multi-megawatt facility among the company's more than 400MW of planned new development beginning in 2022.
More in Construction & Site Selection