Aligned Data Centers is to develop another campus in Northern Virginia.
The company this week announced the development of a second hyperscale data center campus located in Sterling, Loudoun County.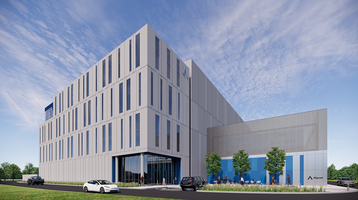 Phase one delivery of the campus' first facility, IAD-03, is targeted for Fall 2023. At full build-out, the four-story building will offer 72MW across 430,000 sq ft (40,000 sqm). The company didn't share full future plans for the campus.
"Speed-to-market, scalability, and sustainability have long been considered ground zero for hyperscale customers, and Aligned's unmatched ability to successfully navigate strategic site selection challenges such as power and land constraints, supply chain issues, and energy efficiency and sustainability requirements is critical to meeting these needs," said Andrew Schaap, CEO of Aligned. "Our team is laser-focused on eliminating the risks and cost exposures associated with new builds, and with our advanced supply chain methodology and experienced global partners, Aligned can deliver infrastructure anywhere an organization's business growth demands, providing incrementally scalable data center capacity — aligned with our customers' designs or ours — in unprecedented timeframes."
Aligned launched its first Virginia campus with IAD-01 in September 2019. A second adjacent facility at the site on Uunet Drive in Ashburn followed in March 2020. At full build-out, the site is expected to offer a million square feet (93,000 sqm) of data center, office, and amenity space, as well as 180MW of total critical load.
Aligned is also planning a facility at Quantum Loophole's gigawatt campus in neighboring Maryland; earthworks and installation of water and power ducts began last month. Work on the 200,000-strand fiber network started last week.
Update: According to BizJournal, Aligned acquired 10 acres from property firm Hughes & Smith Inc. for more than $18.2 million.
The company has reportedly applied to rezone the land, currently set for single-family residences. The company said a tenant has already been secured.
More in Construction & Site Selection