Aligned Energy has completed phase one of its hyperscale data center campus, located in the world's largest data center hub in Ashburn, Virginia.
The US data center provider said that the first phase of this campus is 60MW, and not the 80MW that was touted one year ago, when Aligned Energy had first announced plans for a 26-acre, 180MW campus in Ashburn.
Aligned Ashburn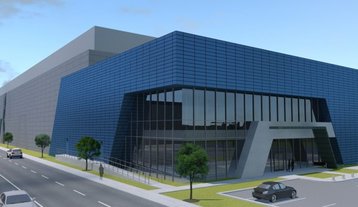 Aligned Energy's initial 369,000 sq ft, 60MW facility is to be followed by a 409,000 sq ft 120MW development, to make up the 180MW campus. But no date has yet been revealed for full completion of the campus.
"Leveraging our standardized supply chain methodology, a dedicated, 50MW, auto-replenished inventory pool, and best-of-breed partners, Aligned constructed two data halls and built out the first 12MW of data center space, expandable to 60MW, in less than six months," said Andrew Schaap, CEO of Aligned Energy.
"Aligned Ashburn is among the fastest building permit to commissioning construction projects in the history of Ashburn's critical infrastructure," Schaap added.
Northern Virginia is considered to be the largest metropolitan colocation market in the world, thanks in part to the rapidly developing hub of Ashburn, which is an attractive location for data center facilities due to its proximity to major population centers (it is part of the Washington DC metro), affordable and reliable power, and favourable tax incentives.
Ashburn is also home to the world's densest fiber network, and Aligned Ashburn is understood to sit atop these major fiber and conduit routes, providing access to more than 50 carriers in the immediate area.
Both buildings will be equipped with Aligned's patented cooling system, which can support variable IT equipment power densities - between 1kW and 50kW per cabinet - in the same data hall.
In 2018, Aligned Energy received an unspecified investment from Macquarie Infrastructure Partners, which gave Macquarie joint ownership of the company, alongside BlueMountain Capital Management and MIP. The company has been using this investment to expand ever since.
Last week for example Aligned Energy added 8MW to its Dallas, Texas data center, DFW-01. It also has a facility in Phoenix, and is building another campus in Salt Lake City, set to deliver up to 50MW of capacity.