Aligned is to build a data center at Quantum Loophole's massive gigawatt campus in Maryland.
Quantum Loophole this week announced that Aligned Data Centers has signed an agreement to acquire land, power, and water at its Frederick County, Maryland data center campus.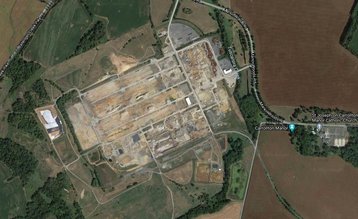 Aligned is the first data center firm to commit to the project. Terms of the deal were not disclosed.
"Aligned's ability to acquire power- and connectivity-rich land in strategic regions is critical to delivering infrastructure at the quality and velocity our customers have come to expect," said Andrew Schaap, CEO of Aligned Data Centers. "The attractive tax exemptions, power availability, proximity to Northern Virginia, and holistic approach to enabling data center development were key drivers in our decision to choose Frederick County."
Led by former Terremark and CyrusOne executive Josh Snowhorn, Quantum Loophole is developing a 2,100-acre data center campus in Maryland. Previously known as Alcoa Eastalco Works, the acquired site is a former aluminum smelting plant in Adamstown, about 25 miles due north of Ashburn, Virginia.
With aims to create a 1GW campus, Quantum Loophole has previously said it expects to deploy individual data center modules of 30-120MW capacity in less than nine months. The company is also building a new "massive" fiber ring to connect to the neighboring data center hub of Northern Virginia.
Josh Snowhorn, founder and CEO of Quantum Loophole, added: "Location is everything in the data center industry, and Aligned Data Centers is one of the first to recognize this opportunity for their future development needs. Quantum Loophole identified a location in proximity to a market that has sparse availability for future development. With more than 2,100 acres of land, our Frederick County community is purposely designed to support mass-scale data center developments including gigawatts of power, recycled water, and dedicated connectivity in an automated environment."
The Eastalco site opened in 1970 as a plant for the French and Japanese partnership Howmet/Pechiney. Through a series of mergers and acquisitions, the plant was bought by Alumax in 1983 and by Alcoa in 1998. The facility closed in 2010 and demolition of the facility was completed in 2017.
Frederick County recently amended its zoning laws to allow data centers, weeks after it was revealed AWS backed out of a project there due to restrictive timelines.
2022 has seen Aligned complete work on a build-to-suit facility in Utah, complete one data center and break ground on a second in Chicago, and begin work on a new data center in Phoenix, Arizona. The company has approximately 270MW of new development planned in 2022.
Aligned currently operates two buildings – IAD01 and IAD 02 – in Virginia at its 26-acre Ashburn campus on Uunet Drive in Loudoun County. The site will reach 180MW and offer more than 1 million sq ft at full build-out.
Schaap said Aligned has plans for 400MW of additional capacity in the Northern Virginia region.