Aligned has completed work on the first data center at its Chicagoland campus, and broken ground on a new adjacent data center.
The company this week announced first-phase completion of its ORD-01 facility in located in Northlake, Illinois; the facility offers 220,000 square feet of space and 48MW of capacity (expandable to 60 MW).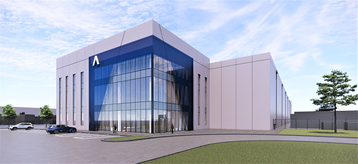 The company is simultaneously starting work on a second, adjacent facility, ORD-02. Upon completion, Aligned's 18.5-acre Chicagoland campus will offer two multi-story facilities spanning 520,000 sq ft and offering more than 100MW of capacity.
"Chicago's centralized location, long-haul connectivity, and access to renewable energy options make it an ideal geostrategic destination for hyperscalers and multinational enterprises to deploy their mission-critical infrastructure," said Andrew Schaap, CEO of Aligned. "Bringing one hyperscale data center online the same day that we break ground on a second facility is a testament not only to the demand for Aligned's adaptive and sustainable data center platform, but to our ability to deliver infrastructure at the velocity our customers need it, even in a supply-and power-constrained market such as Chicago, anywhere in the world."
2022 has seen Aligned complete work on a build-to-suit facility in Utah, and begin work on a new data center in Phoenix, Arizona. The company has approximately 270MW of new development planned in 2022.
More in Construction & Site Selection