Let's start by saying this: Digital Realty is the biggest data center company in the world. It's also the originator of the business model which other leading players have adopted: the data center REIT (real estate investment trust). So DCD welcomed a chance to quiz its leader William A. (Bill) Stein.
In wholesale colocation, a 2017 study by Structure Research gave Digital 20.5 percent of the market, a bigger share than the next three players combined.
In the two years since, its acquisitions have included the number three player, DuPont Fabros (which had six percent), bought for $7.8 billion in 2017.
Spread the net wider, and comparisons get tricky, as data center loads shift between the cloud and enterprise spaces. Technavio says the top monolithic hyperscale cloud providers, Google and Amazon Web Services (AWS), have the most data center space. And surveys that focus on retail colocation providers serving the enterprise market always put Equinix top. Digital has roughly $3 billion in revenue and 1,500 employees, while Equinix turns over $4bn and employs 7,000.
But consider: Digital is essentially a real estate company, and its facilities underpin both these markets. It owns more than 260 facilities round the world with more than 35 million sq ft of space, and has a market capitalization of around $35bn. It offers "build-to-suit" facilities and powered shells (or "powered base buildings") to hyperscalers like Google, and to retailers like Equinix - which is one of Digital's top ten customers.
This feature appeared in the January issue of DCD Magazine. Subscribe for free today.
Head of the pack
Back in 2004, Private equity firm FI Partners created the concept of a data center REIT. It took 21 facilities it had bought in bankruptcy auctions, launched Digital Realty to manage them and floated it on the stock market. Bill Stein joined Digital from FI, and rose through the roles of chief financial officer and chief investment officer, to become CEO in 2014.
Data centers are still considered a niche (an "alternative asset category") within REITs, alongside the traditional major "food groups" of office, retail and industrial, says Stein. But the company is in the top ten of all REITs, and Stein is the first executive from an alternative asset category to chair the trade body Nareit.
Meanwhile, other big players including Equinix have restructured as REITs, and Digital has pressed on with a combination of building and acquisition. "We're a hybrid of commercial real estate and technology," says Stein.
In the job of building data centers Stein says Digital's strengths come from its real estate roots: "We have the most efficient supply chain," says Stein. "We have the master-planning, and the modularity, to build out these facilities.
"We have the lowest cost of capital, which gives us a huge advantage," says Stein, proudly comparing Digital's credit rating (BBB from Fitch) with CyrusOne and Equinix (both BBB-). This enables the company to stockpile land in key areas, he says: "We bought 400 acres in Northern Virginia at half a million dollars per acre, while others are paying upwards of $2m per acre.
"We can't buy generators at 25 percent, but we can take that much land and warehouse it."
As a result, Digital has a stunning campus in Ashburn, where the 100MW Building L sits alongside a production line of buildings in various states from prepared ground to shell, aiming to deliver capacity to hyperscale customers just as fast as is humanly possible.
This is where planning comes in. Digital has enough projects in the pipeline to keep construction companies and infrastructure providers busy: "When they finish one project, right away we can move them to another. That's important: if they have to stop for a while, that will cost."
Contractors on the Ashburn campus may have been working there for years, on a succession of buildings, but Stein is looking beyond this.
"They are running out of land in Loudoun County," observes Stein.
Some providers are promoting a new hotspot 100 miles south in Richmond, fed by the new Virginia Beach cable landing, but he thinks Digital's ability to keep buying close to the Washington hub gives it a lead: "Richmond might be too far for availability. Manassas [30 miles from Washington and Loudoun] will be the next hot market in Northern Virginia," he predicts.
Sometimes Digital will use partners in new territories: for instance, it has a joint venture with Mitsubishi in Japan, and one with Brookfield to handle the Ascenty facilities in Brazil, which it bought for $1.8bn in 2018. In 2019, it did a long-term joint venture with Singapore's Mapletree, selling ten of its US powered-shell facilities, and sharing three others into joint ownership.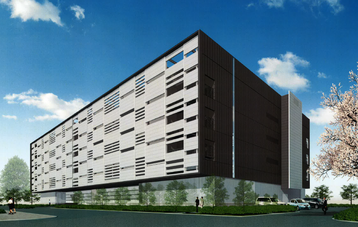 The Mapletree deal was a clear effort to rationalize Digital's assets, realizing those which had matured, and gathering resources to enable forward-looking moves like its recent purchase of Interxion. "From a real estate viewpoint, it's a good thing to take current stabilized assets, sell them and recycle that," explains Stein.
The powered-shell buildings were full and generating a six percent capitalization rate: "The buildings are basically full, and there is very little opportunity to create additional value in the asset," he says. "Mapletree appreciates this rich return, but our core investors are looking for a higher return. Our guidance is a nine to eleven percent cap rate. That's basic real estate."
As well as looking for returns, Digital has been strategic in looking for well-connected high profile sites, says Stein: "50 East Cermak in Chicago is an incredibly well connected, network-dense asset. In New York, we lease data centers in 60 Hudson and 32 Avenue of the Americas. These are beautiful buildings with very classic architecture."
These attributes are important in the new direction in which Stein is leading Digital: into retail colocation, dealing directly with enterprise customers alongside its leasing activities. Before 2015, it dabbled in retail, but its Telx acquisition that year for $1.9bn brought with it a strong enterprise customer base.
This doubled Digital's retail colo holdings, and was followed by other purchases including eight facilities bought from Equinix in 2016 for $874 million.
In 2019, Digital made its biggest retail play yet. In October it announced the acquisition of Interxion for $8.4bn (pending regulatory approval), and in November, at its MarketplaceLIVE event in New York, it launched PlatformDIGITAL, a strategy to support enterprises' cloud and data center estates.
Both the Telx and Interxion acquisitions included buildings owned by Digital but leased to its partner, multi-tenant data centers (MTDCs) are now a major part of its portfolio.
Digital is definitely aiming to compete with Equinix. The Interxion merger brings it a step closer to parity in enterprise colo floor space, while PlatformDIGITAL is a bid to eclipse Equinix's efforts to encourage an interconnected ecosystem in its facilities, which goes by the name of Platform Equinix.
In response, Equinix is making a foray into Digital's territory, with a joint venture to build wholesale colocation in Europe.
"I would say we have approached the business from opposite sides," says Stein. "They started out as a colocation and interconnection provider, and are only recently getting into the large footprint space. They are still far and away a colo company, they have high margins and their portfolio is predominantly leased."
By contrast, Digital is still growing in colocation. "Our colo revenues are about 30 percent, which is nowhere near what Equinix has, but we are growing that part of the business."
This is the preferred way to approach it, he says: "We own the building all the way up to the cage. It is easier to go up the stack than down. If your core business was to lease a floor it is harder to go to owning the building."
Entering at this stage, with a diverse portfolio, Stein reckons Digital can match changing enterprise needs better, by offering options for cloud services or larger spaces within Platform DIGITAL: "Customers are outgrowing colo only environments. We provide a nice way to expand to larger footprints. The lines are blurring. We remove the complexity so the customer can easily achieve a hybrid multi-cloud architecture."
He's also pretty clear that Digital will be undercutting Equinix in many areas, including the prices charged for cross-connects within the ecosystem.
"We are working with low margins and an efficient supply chain. One of the advantages we have because of our scale is the absolute best pricing you can get - all the way down the supply chain."