Digital Realty has made a $1.4 billion deal with Singapore real estate investor Mapletree, selling ten of its powered shell data centers outright, and shifting three Northern Virginia hyperscale facilities into joint ownership.
The deal will dispose of some legacy property, pay down some of Digital's debt, and enable future expansion. The ten properties sold to Mapletree will be the second US portfolio the Singapore investor has acquired, following the purchase of 14 facilities from Carter Validus Mission Critical REIT in 2017.
MapletRealty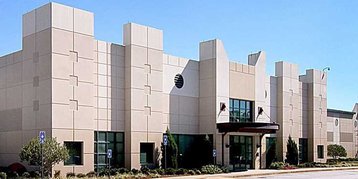 "These transactions represent an important step towards our goal of self-funding our growth and diversifying our sources of equity capital said Digital Realty Chief Executive Officer A. William Stein, adding that the proceeds would be put to faster growing opportunities.
In more detail, the ten facilities bought by Mapletree are all powered shells, listed by Digital as "Powered Base Buildings". The portfolio was bought for a total of $557 million, by a 50:50 joint venture consisting of Mapletree Investments Pte Ltd (MIPL) itself, and Mapletree Industrial Trust (MIT), a data center real estate investment trust (REIT) managed by Mapletree. Digital will continue to manage the properties for Mapletree for the first year.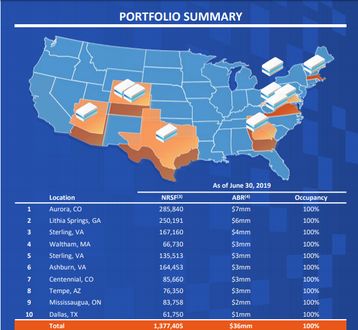 Spot the DC
Digital Realty declined to identify the exact data centers it has sold, but provided a slide with some details (left). The properties have been described online as mostly located in "non-core markets", although three of them are in the hot hub of Northern Virginia - two in Sterling and one in Ashburn, and the other seven are located in Aurora CO, Centennital CO, Lithia Springs GA, Waltham MA, Tempe AZ, Mississauga ON and Dallas TX.
They are all fully leased, and Digital expects them to generate around $37 million net income. From the quoted sizes, it seems very likely that one of the properties involved is the Lithia Springs facility shown above, and others may be identifiable.
Meanwhile, a joint venture, owned by Mapletree and by Digital, will take over three more modern hyperscale data centers in Ashburn Virginia (described as "Turn-Key Flex" facilities) valued at $1 billion. Mapletree will pay $811 million for an 80 percent stake in the three data centers, with Digital retaining 20 percent. Like the other deal, Mapletree's investment comes through a joint venture between MIPL and MIT.
Joint ventures
These are fully leased facilities, expected to gain an income of $61 million in 2020. Digital will continue to manage and operate these data centers. Once again, DR has declined to identify the properties, but the quoted sizes and details could help identify them from DR's published list of 17 facilities in the State.
"We have deepened our presence in the fast-growing data center sector with our second portfolio acquisition in North America," said Mr Hiew Yoon Khong, group CEO of Mapletree Investments.
The transactions are expected to close in late 2019 or early 2020.
Challenge: In response to a request from DCD, Digital Realty declined to identify the properties involved in the deal. If an DCD reader would like to join the dots from the lists posted above, and work out which actual data centers have been sold or shared, we would be eternally grateful.