Satellite operator Viasat is still seeing its connectivity services in Europe disrupted, more than two weeks after suffering a suspected cyber attack.
On the same day that Russia invaded Ukraine, Viasat began suffering issues with its KA-SAT network. The company later acknowledged that it was engaging with cybersecurity firms to investigate the issue in the midst of a suspected cyberattack. The network continues to suffer issues.
"Satellite operator Viasat's KA-SAT network in Europe remains heavily impacted 18 days after it was targeted by an apparent cyberattack, one of several incidents observed as Russia launched its invasion of Ukraine on the morning of 24 Feb." Netblocks tweeted this week.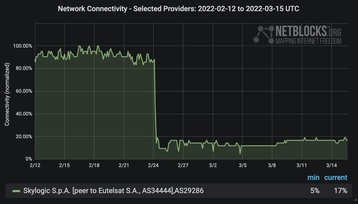 Analysts for the US National Security Agency, French government cybersecurity organization ANSSI, and Ukrainian intelligence are reportedly assessing whether an outage suffered by Viasat's European satellite network was the work of Russian-state backed hackers preparing the battlefield by attempting to sever communications.
Victor Zhora, Chief Digital Transformation Officer at the State Service of Special Communication and Information Protection of Ukraine, said the outage was "a really huge loss in communications in the very beginning of war."
"We believe that Russia is attacking not just with missiles and with bombs, but with cyber weapons," he told reporters this week. "I hope detailed attribution will be made later."
PaxEx.Aero reported at the onset of the outage that at least three ISPs had reported issues connecting to Viasat satellites – including Intv.cz and EUSANET – but suggested as many as six were affected. CSP Bigblu confirmed its network was suffering disruption as a result of the Viasat outage, as did Orange-owned Nordnet.
A German wind turbine manufacturer said remote operation of more than 5,000 turbines had been impacted by the disruption. Reuters reports that Enercon warned this week that 85 percent of its modems were still offline and that a full recovery was likely to take "some further weeks."
SpaceX's Starlink network has reportedly been suffering signal jamming attacks in the region. Ukraine's Vice Prime Minister of Ukraine Mykhailo Fedorov this week posted an image showing another delivery of Starlink Dishy terminals.
"A new batch of Starlink stations is already in Ukraine! Technology is our future. Today it helps Ukrainians!" he tweeted. The image seems to show around 300 boxes.
On the ground, large parts of Ukraine's communications networks have suffered disruption amid airstrikes and invasion by Russian forces.