A satellite outage is impacting thousands of wind turbines across Europe. It is likely collateral damage resulting from Russia's invasion of Ukraine: the operator Enercon notes that its communication services "went down at almost exactly the same time as the Russian invasion of Ukraine began."
"Due to a massive disruption of the satellite link in Europe, remote monitoring and control of thousands of Enercon wind energy converters (WECs) is currently only possible to a limited extent," German wind turbine manufacturer Enercon said today.
"Since Thursday (24 February), a total of 5,800 WECs in central Europe with a total power of 11 gigawatts have been affected by the outage of the link. SCADA monitoring is currently not taking place due to the disruption."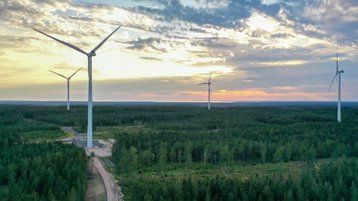 While Enercon didn't name the satellite operator, Viasat has suffering an ongoing outage in areas of Europe including Ukraine due to a suspected distributed denial of service (DDoS) and/or cyberattack. The incident has been ongoing since Thursday 24, the same day Russia invaded Ukraine.
The turbine manufacturer said there is "no risk" to the WECs, which remain in operation in automatic mode and are producing energy. However, in the event of a fault, Enercon will be unable to access the systems remotely and a team will have to be sent on-site.
Grid operators continue to have unrestricted access to the wind energy converters to control their behavior in the power grid – for example to restrict the feed-in power if necessary for grid stability.
The manufacturer said a report was sent to the Federal Office for Information Security (BSI) immediately as a result of the impairment of the critical infrastructure, and it is in close contact with the federal authorities.
Enercon added it is exploring setting up alternative communication links in order to restore remote access as quickly as possible and is currently investigating its options.
"The exact cause of the disruption is not yet known. However, following an in-depth examination, a technical failure on Enercon's side has been ruled out at present," the company said. "The communication services went down at almost exactly the same time as the Russian invasion of Ukraine began. Around 30,000 satellite terminals are affected across Europe, which are used by companies and organizations from various sectors."
Large swathes of Ukraine have had communications disrupted by the invasion, and cyberattacks have been launched at government and banking sites on both sides.
After requesting help from SpaceX CEO Elon Musk, it seems the billionaire has delivered a large number of Starlink terminals to Ukraine to provide satellite communications in the country. Vice President Mykhailo Fedorov tweeted a picture of a truck filled with Starlink Dish terminals with thanks to the company and CEO. Musk replied: " You are most welcome."
According to unofficial Starlink satellite tracker Starlink.sx, the company operates ground stations relatively close to Ukraine in Poland, Lithuania, and Turkey.