SpaceX's Starlink satellite broadband service is facing signal jamming in Ukraine, CEO Elon Musk has said.
"SpaceX reprioritized to cyber defense & overcoming signal jamming," Musk tweeted over the weekend. "Will cause slight delays in Starship & Starlink V2."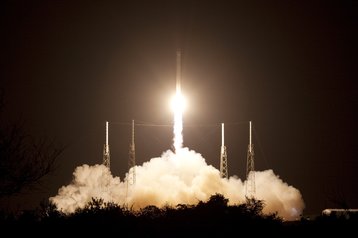 In the replies, he added that some Starlink terminals near conflict areas were being jammed for several hours at a time.
"Our latest software update bypasses the jamming. Am curious to see what's next!" Musk said. "In a way, this is free QA haha." His claims have not been independently verified.
Large parts of Ukraine's communications networks have suffered disruption amid airstrikes and invasion by Russian forces.
After requesting help from SpaceX CEO Elon Musk, the billionaire has delivered a large number of Starlink terminals to Ukraine to provide satellite communications in the country. On Friday Musk claimed Starlink is the only non-Russian communications system still working in some parts of Ukraine. After security researchers warned that the terminals could be tracked and targeted by Russian air strikes, Musk admitted it was a risk.
Musk previously noted that the Dishy terminal's software had been updated to reduce peak power consumption to the point they can be powered from car cigarette lighter and that mobile roaming enabled so that the antennae can maintain signal while on a moving vehicle.
Since last week Viasat has been suffering an ongoing outage in areas of Europe including Ukraine due to a suspected distributed denial of service (DDoS) and/or cyberattack.
General Michel Friedling, head of France's Space Command, said there had been a cyberattack: "For several days, shortly after the start of operations, we have had a satellite network that covers Europe and Ukraine in particular, which was the victim of a cyberattack, with tens of thousands of terminals that were rendered inoperative immediately after the attack," he said, adding that he was talking about a civilian network from Viasat. 
PaxEx.Aero reported at the time at least three ISPs have reported issues connecting to Viasat satellites – including Intv.cz and EUSANET – but suggested as many as six are affected. CSP Bigblu confirmed its network was suffering disruption as a result of the Viasat outage, as did Orange-owned Nordnet. German wind turbine manufactured said remote operation of more than 5,000 turbines had been impacted by the disruption.
Amid an ongoing information war, Musk claimed on Twitter over the weekend that Starlink has been told by some governments outside of Ukraine to block Russian news sources.
"We will not do so unless at gunpoint," he said. "Sorry to be a free speech absolutist."