Verizon is planning to build a data center in Roswell, Georgia.
The Roswell City Council this week unanimously approved a rezoning request by Verizon to expand its data center on Turner Road in Fulton County, to the north of Atlanta.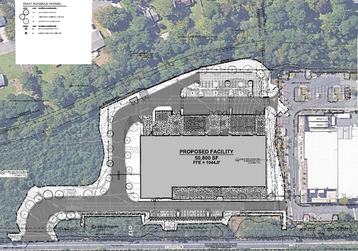 The council approved rezoning 10325 Turner Road & Old Alabama Connector from OP (Office Professional) to CIV (Civic and Institutional) and added a Conditional Use for "Major Utility."
The 9.86 acre site is within the city limits of Roswell, and immediately adjacent to the existing Verizon facility at 10300 Old Alabama Connector Road.
The company is seeking to develop a 50,800 square foot (4,700 sqm) data center and office on the currently undeveloped site. The single-story facility would comprise 14,500 sq ft (1,350 sqm) of office space with two equipment areas of 18,100 sq ft (1,680 sqm) each. A 7,500 sq ft (700 sqm) network equipment room is to be located within the equipment areas.
The company notes that it purchased this property several years ago, and at the time of the purchase the City of Roswell approved the property's rezoning to allow the proposed facility. However, with a 2014 revision to the zoning, the proposed facility is no longer allowed under the OP (Office Professional) district zoning.
Verizon's existing facility on the adjacent plot is a single story building measuring 75,857 sq ft (7,050 sqm).
AppenMedia reports that the proposal originally contained plans for three pods when first put forward six months ago, rather than two, but was changed after residents raised potential noise concerns in a December meeting. Some residents still objected to the proposals this week.
AM reports one Justin Reynolds, who spoke in opposition to the project in December, reiterated that his chief concern was with noise.
"A data center is nothing like an office park, and I don't think that's been made clear yet," Reynolds said. "This is an industrial data center, which will produce a great amount of noise from the diesel generators and industrial HVAC equipment… Yes, the world is going to need more data centers, but it makes absolutely no sense to have a data center right in the middle of a peaceful residential area."
Last year Microsoft also bought land in Fulton County as it looks to build facilities for its new East 3 Azure cloud region. Last month Strategic Datasphere acquired a data center in Alpharetta leased to E*Trade, and a Sungard facility in the city was sold as part of Sila's portfolio sale to Mapletree Investment Trust. Stack is also developing a campus in Alpharetta.
Verizon is seemingly on an expansion spree at the minute. Earlier this month the company was granted approval for a new data center in Southlake City, Texas. The company is looking to build five data center pods spanning around 210,000 sq ft (19,500 sqm) on land adjacent to its existing Network Operations Center.
In January, Verizon filed for permission to build a new data center in Colorado Springs, Colorado. The company aims to develop a 49,000 square-foot (4,500 sqm) data center on Arrowswest Drive in El Paso County adjacent to an existing Verizon data center and close to a large office campus belonging to the telco.
Last year DataBank bought a former Verizon data center in Orangeburg, New York, from SKAE Group, which had acquired the facility in a sale-leaseback deal with the telco in 2018. It's unclear if Verizon still occupies any of the facility, but DataBank said it plans to build a new hyperscale facility on the site.
Verizon sold a portfolio of 29 data centers to Equinix in 2016 for $3.6 billion. Many of the facilities were those Verizon inherited when it bought Terremark in 2011.