Microsoft has bought a plot of land outside Atlanta for a data center.
The company recently paid $18.7 million for a 125-acre site on Ben Hill Road in Southmeadow East, close to Hartsfield-Jackson airport in Fulton County.
Records show the company plans to build a 250,000 sq ft data center on the plot. Files show the company plans to invest $420 million on the project, listed as 'Project Fulton.' In February the County issued a bond of $420 million for the project.
The company announced earlier this year that it was building an East 3 Azure cloud region in Georgia in both Fulton and Douglas Counties. DCD has previously reported on Microsoft's developments in Palmetto, Douglas County.
"We are committed to building for the community first to ensure we generate a sustainable, positive impact aligned with our core values," a Microsoft spokesperson told BizJournal. "In terms of the specifics behind Microsoft's investment, we will share more details as the design process progresses."
For breaking data center news, features, and opinions, subscribe to DCD's newsletter
Microsoft data centers in Douglas County, GA and Douglas Country, WA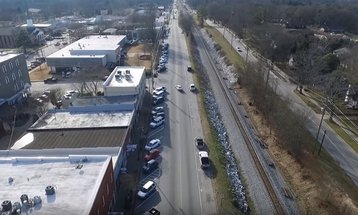 Meanwhile, Microsoft is also building a data center in Douglas County, Washington, where the local energy commission recently implemented a new energy rate structure to accommodate large energy users in the county.
The Douglas County PUD Commission this month approved a new rate structure that governs the cost of bringing power from external sources into the county for new large customers that are not drawing power from the local Wells hydroelectic dam. From 1 May, 2021, the gradual rate adjustment will 2.3 percent. The new policy applies to a customer in any industry who uses more than around 1.5MW.
"When combined with wholesale market power, this all in rate is lower than the average Washington State Industrial rates," said general manager Gary Ivory. "It puts Douglas County in an effective position to attract new business for a long time to come."
Microsoft currently operates more than 200 data centers across 34 countries. The company this week said it will be building 50 to 100 new data centers each year for the foreseeable future, and is expecting to add facilities in at least 10 more countries in calendar 2021.