A large new data center development is being built by an as-yet-unnamed company in Stanton Springs, Georgia.
The Joint Development Authority of Jasper, Morgan, Newton, and Walton Counties recently approved a $42 billion bond to Baymare LLC on Feb. 23 for a large-scale data center project in Stanton Springs, just outside Atlanta, as well as a purchase and sale agreement for more than 628.54 acres of land, priced at $62,500 per acre.
The 630-acre project involves multiple phases valued from $550 million to $750 million developed over the next decade. The first phase of the project could finish by the end of 2026, according to the agreement. Three subsequent phases are also planned with the entire project slated for completion by 2032.
Phase one will reportedly be a building with 900,000 sq ft (83,600 sqm) of interior space, with the three subsequent phases each adding 400,000 sq ft (37,100 sqm) of interior space per facility. As part of the agreement Baymare will receive an abatement on property taxes for a number of years but will make payments in lieu of taxes to the JDA irrespective of the state of development.
'Baymare LLC' comes to Atlanta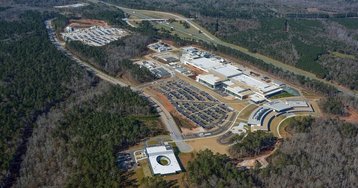 The data center company on the bond is operating under the name Baymare LLC. The company was first registered on February 24, 2021, and has been registered through Corporation Service Company, a Delaware-based business, legal, and financial services provider that has previously been involved with a number of data center firms looking to obfuscate their involvement in projects.
Shane Short, executive director of the Development Authority of Walton County and lead economic development director for the JDA, said that while 'Baymare' was not a Georgia-based company, it did already have a presence in the state and would reveal itself soon.
Facebook has a data center campus nearby to the new site. The social media company announced a massive 1.5 million square feet (140,000 sq m) expansion to the Newton County campus late last year. The new bond agreement is similar to the one Facebook agreed with the JDA in 2018. "The listed dollar amounts and facility dimensions were identical to those found within bond documents for the 2018 Facebook deal," notes the Covington News.
Microsoft also has plans for a facility outside Atlanta. The company is planning to build a 250,000 square foot (23,225 sqm) in Palmetto, in South Fulton County.