Facebook plans to build three more data centers at its Newton County campus for $1bn, adding just under 1.5 million square feet (140,000 sq m) to the Georgia site.
The new data centers are expected to lead to around 200 jobs.
Made in Georgia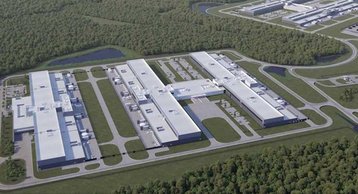 Facebook first broke ground on its Newton Data Center campus back in 2018, pumping $750m into the project just outside of Atlanta. At the time, the company said that it could invest an additional $2.5bn into the site by 2029.
Back in 2018, the company signed contracts with two solar energy providers to help power the facility when it comes online this year, followed by another solar deal in 2019.
To help power the new additions to the campus, along with other sites, Facebook said that it has 'enabled' six new solar projects for a total of 435MW. "In turn, these new renewable energy projects are generating more than 2,500 construction jobs," the company said.
Facebook is on track to fully power its data centers with renewable energy (via PPAs) this year, and hopes to have a net-zero emission supply chain by 2030.