Novva Data Centers has acquired a parcel of land in Mesa, Arizona, at auction.
BizJournal and AZCentral reported the company acquired 165 acres of state land in southeast Mesa for $62.7 million this week.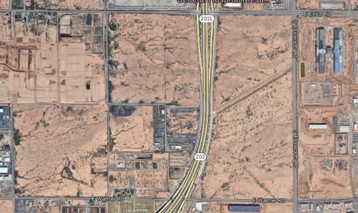 Novva CEO Wes Swenson was the sole-bidder for the parcel along Warner Road and Loop 202, located within the Hawes Crossing master planned community on more than 1,000 acres.
"I thought with the location of this land there might be a few more bidders, so I'm a bit surprised. It's anticlimactic," Swenson told BJ. "You do a lot of preparation prior [bidding on] a piece of land like this and of this size."
"We're not completely fixed on it yet," Swenson added. "Our plan would be to attempt a design-build and operate data centers at the property. We practice water-free air cooling, so we still need to do more research on its viability. ... That's one of the uses. The other might be industrial."
The company will begin finalizing a plan for the site; it aims to have plans before the city planning & zoning board by Q1 2024 and could break ground in 2025.
The CEO told AZCentral Novva could invest up to $5 billion over a seven-year period.
"We're excited. This is a big, big market we've been trying to get into," he told the publication. "We think this would be a great opportunity to do a green approach to data centers where it's maybe not been done [here before]."
Novva was launched in 2020 by former C7 CEO Wes Swenson with $95 million from CIM, initially with plans to develop a $1 billion hyperscale campus in West Jordan, Utah.
The company opened the 300,000 square foot (28,000 sqm) first phase of that campus late last year, and targets growing the facility to 1.5 million sq ft (140,000 sq m) over four phases.
The company has since acquired a 6MW facility in Colorado Springs and announced plans to expand it to 30MW for $200m. 2022 also saw Novva announce plans for a 275,000 square foot (25,550 sqm), 100MW data center in Las Vegas. Earlier this year the company announced plans for a 60MW data center in Reno, Nevada that is set to open in 2024.
Last year saw the company raise another $355 million from CIM Group. Novva plans to expand across the United States and expects to offer 1,000MW of data center capacity by 2027 at several yet-to-be-named locations.
The company utilizes autonomous aerial drone security and robotic dog monitoring at its sites.
Phoenix is a major data center hub, with the Mesa area home to Polish software firm Comarch, EdgeCore, Meta, Google, and NTT. Across the rest of Phoenix, the likes of Stack, Stream, Prime, Aligned, Iron Mountain, Vantage, Compass, QTS, EdgeConneX, Expedient, and H5 are all present. Microsoft operates a cloud region out of the area.