US data center firms Vantage and Prime have both acquired land plots in west Phoenix, Arizona.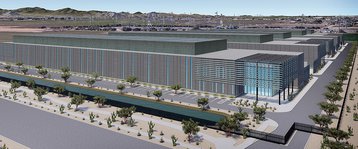 Prime buys land in Arizona and adds Dallas site
Citing real estate database Vizzda, BizJournal reports Prime Data Centers has bought 66 acres in Avondale on the south side of the Hermosa Ranch Technology Campus.
The company paid $28.9 million, or about $438,000 per acre, for the site in April. It could reportedly develop up to 1.3 million square feet across five data center buildings.
Update: Prime has confirmed plans for a Phoenix campus. Located in Maricopa County, Prime Phoenix will be a five-building, 66.5-acre campus featuring 210MW of critical power and 1.3 million square feet (12,0775 sqm) of space.
Each facility will span 260,400 SF across two stories. The buildings will offer 42MW across 12 data halls and 120,000 sq ft of white space. The first data center at the campus is projected for Q3 2025 completion.
"Phoenix presents an incredible growth opportunity for Prime as a top-five, North American data center market with increasing demand from cloud and enterprise data center buyers," said Chris Sumter, EVP of acquisitions at Prime. "With compelling state tax incentives, power costs 16-18 percent below national averages, and low risk of natural disasters, Phoenix will sustain its position for years to come. This project will further Prime's commitment to sustainability and technology advancement through efficient enablement of higher power densities and recycled water."
Prime's current portfolio is centered around California, with a campus in development in Chicago, Illinois.
The company also quietly updated its site in April to include Dallas. Prime now lists a presence at 1515 Round Table Drive in Dallas. Previously a Carrier-1 facility, it was sold to VPLS/Evocative last year.
The company also lists plans for a new 12MW, 96,475 sq ft facility at the adjacent 1517 Round Table Drive, as well as a 24MW, 130,000 sq ft facility at 1501 Lookout Drive in Richardson.
It recently announced plans to expand into Denmark with a 124MW campus in Saeby. The company is reportedly looking at expanding into Spain.
It has previously listed data centers in Madrid, Spain, and Frankfurt, Germany, as 'coming soon' on its website without further details, but has since taken them down.
Vantage expands further in Phoenix metro
Meanwhile, Vantage has bought more land in the Glendale area of Phoenix. Again citing Vizdata, BizJournal reports Vantage acquired nearly 34 acres from Phoenix-based industrial developer Merit Partners for $50 million in March.
The site is located at the southwest corner of the Loop 303 and Bethany Home Road in Merit's master-planned industrial center called Camelback 303.
The property is part of an overall 614-acre site that Merit owned and had planned to develop into a $1.5 billion logistics park.
BJ reported QTS Realty Trust bought 400 acres of Camelback 303 from Merit for a potential expansion last year. The company currently operates two campuses in the area in central Phoenix.
Vantage currently operates one Phoenix campus in Goodyear. Vantage bought the land in early 2019 and began construction work the same year. It completed work on the first building in November 2021 and broke ground on the second in October 2022. A total of three buildings are planned for the AZ1 campus, totaling one million sq ft and 176MW.
More in Construction & Site Selection