Google has broken ground on a new data center in the Mesa area of Phoenix, Arizona.
Local press reports the search and cloud giant has begun work on the $1 billion project, previously known as "Redhawk."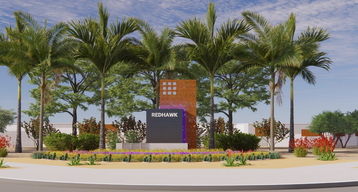 The facility, which has been in the works since 2019, will span 750,000 square feet (70,000 sqm) once fully built out on 187 acres of farmland on the northwest corner of Elliot and Sossaman roads. The first 288,530 sq ft (26,805 sqm) phase is reportedly due live in July 2025, and set for full build-out across three phases by 2030.
In a statement, Google said data centers, including the one built in Mesa, will power the company's tools like Search, Gmail, Maps, and 'ongoing artificial intelligence innovation'.
"We are pleased to see Google making this tremendous investment in Mesa's Elliot Road Technology Corridor as they break ground on their cutting-edge, air-cooled data center campus," Mesa's economic development director Bill Jabjiniak told Business Journal. "Mesa's investment in critical infrastructure has made it possible for quality technology companies and advanced manufacturers to locate and thrive, strengthening Mesa's economy by bringing high-paying jobs and substantial investments."
Google previously applied for tax breaks for the project using the name 'Stone Applications, LLC'. The company purchased the land in a 25-year government property lease excise tax (GPLET), agreement with with city of Mesa. The company only filed its design plans with the city last month.
Phoenix is a major data center hub, with the Mesa area home to Polish software firm Comarch, EdgeCore, Meta, and NTT. Across the rest of Phoenix, the likes of Stack, Stream, Prime, Aligned, Iron Mountain, Vantage, Compass, QTS, EdgeConneX, Expedient, and H5 are all present. Microsoft operates a cloud region out of the area.
This week Vantage announced the topping out of Phase II of its Goodyear campus. The project is scheduled to be operational in the spring of 2024.
More in Construction & Site Selection