Google has announced new cloud regions in Austria, Greece, Norway, South Africa, and Sweden.
The search giant, as part of its Next '22 conference this week, announced the five new GCP regions. Details about timelines or precise locations weren't shared.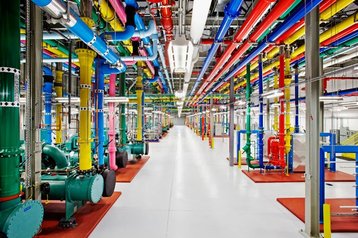 TechCrunch also reports the company is planning a region in Czechia, though this wasn't in the official announcement.
"These cloud regions help bring innovations from across Google closer to our customers around the globe, and provide a platform that enables organizations to transform the way they do business," the company said in the blog post announcing the news.
" A new Google Cloud region in Norway gives us the opportunity to solve both challenges. It is great news for the energy system of tomorrow," said Jon Andreas Pretorius, Chief Information Officer, at Elvia.
"The commitment of Google Cloud to Austria as a physical data hub was a decisive factor for our decision to partner with Google Cloud. Hosting parts of our development efforts in the cloud is an important factor for our successful innovation strategy. Yet, as a bank we cannot make any compromise when it comes to data safety," added Dietmar Böckmann, Managing Director, of Erste Bank.
Several of the regions were already known about in various capacities; the company had already announced a South African cloud region this month, to be hosted inside an upcoming Africa Data Centres (ADC) facility in Cape Town.
A new Greek cloud region was also announced this month.
Last year Google was granted planning permission for a data center in Horndal, Sweden. Google acquired 109 hectares of land in the Dalarna region of Sweden, 160 kilometers northwest of Stockholm, in 2017.
The company first acquired land for a potential Austrian data center back in 2008 after buying a 75-hectare site in Kronstorf close to hydroelectric power stations on the river Enns. The ground was reportedly broken on the site in 2020.
2022 has seen Google launch GCP regions in Milan, Italy; Paris, France; Madrid, Spain; Columbus, Ohio; and Dallas, Texas. It has also broken ground on data centers in Columbus, Ohio; and Omaha, Nebraska. It has also launched a new facility in Singapore. The company has acquired land in Hamina, Finland; Groningen, the Netherlands; and Kansas City's Northland.
It has also announced plans for its first cloud regions in Mexico, New Zealand, Malaysia, and Thailand.
Cloud Next '22 Dual Run for mainframes and C3 instances
As part of the conference, Google also announced a new C3 virtual machine series powered by the 4th Gen Intel Xeon Scalable processor and Google's custom Intel Infrastructure Processing Unit (IPU).
Available in Private Preview, the company said C3 machine instances use offload hardware for more predictable and efficient compute, high-performance storage, and a programmable packet processing capability for low latency and accelerated, secure networking.
"We are pleased to have co-designed the first ASIC Infrastructure Processing Unit with Google Cloud, which has now launched in the new C3 machine series. A first of its kind in any public cloud, C3 VMs will run workloads on 4th Gen Intel Xeon Scalable processors while they free up programmable packet processing to the IPUs securely at line rates of 200Gb/s. This Intel and Google collaboration enables customers through infrastructure that is more secure, flexible, and performant," said Nick McKeown, Senior Vice President, Intel Fellow, and General Manager of Network and Edge Group
The company also announced Dual Run, a mainframe modernization solution. Dual Run enables parallel processing, meaning customers can simultaneously run workloads on their existing mainframes and Google Cloud, allowing them to perform real-time testing and quickly gather data on performance and stability with no disruption to their businesses.
The company said that once satisfied with the performance, customers can make the GCP environment the customers' system of record, while existing mainframe systems can operate as a backup as needed.
"Modernizing legacy IT infrastructure represents a significant stepping stone into the cloud era for many enterprises," said Sachin Gupta, VP, and GM, of Infrastructure, Google Cloud. "By moving mainframe systems to the cloud, organizations have an opportunity to better utilize their data, implement stronger cybersecurity protections, and build a foundation for their digital transformations that will drive their future growth. Dual Run simplifies this process and reduces any associated risks."
Google said Dual Run is built on top of technology developed by the Spanish bank, Banco Santander. Banco Santander Global CIO David Chaos said technology has already been proven to be effective and the company has begun utilizing Dual Run to bring data and workloads onto Google Cloud's trusted infrastructure.
Dual Run is in preview globally.