Google has launched its first Spanish cloud region in Madrid.
"Today, we're excited to announce that our new Google Cloud region in Madrid is officially open," the company announced this week. "Designed to help meet the growing technology needs of Spanish businesses, the new Madrid region (europe-southwest1) provides low-latency, highly available cloud services with high international security and data protection standards — all on the cleanest cloud in the industry."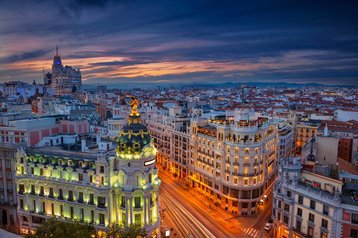 The new region was first announced in June 2020 and is delivered in partnership with Telefónica.
Google said the Madrid region is launching with three cloud zones to prevent service interruptions, and its standard set of products, including Compute Engine, Google Kubernetes Engine, Cloud Storage, Persistent Disk, CloudSQL, and Cloud Identity.
This is the company's first region in Spain. Google currently has nine cloud regions across Europe, with more due to launch in Turin and Berlin in the future. The Grace Hopper subsea cable landed in September 2021 in Bilbao, connecting Spain and the UK with the United States.
This is the second GCP region to open this week, after Google launched a new location in Columbus, Ohio.
It's not clear exactly what facilities Google's new Madrid region is located in, but Telefónica operates the Tier IV Alcalá CDG facility on the outskirts of Madrid; the facility was built in 2013 and spans 23 data halls, each measuring 681 sqm, and offers up to 100MW of capacity.
In 2020 Microsoft announced plans for a Spanish Azure region in Madrid in partnership with Telefónica, but hasn't shared a go-live date. Oracle has also previously partnered with the telco to host an upcoming cloud region in Madrid due to go live this year.
AWS is due to launch a Spanish region in Aragon in mid-2022.