DataBank has opened a new data center in Salt Lake City, Utah
The company this week announced the opening of its newest Salt Lake City data center, SLC6.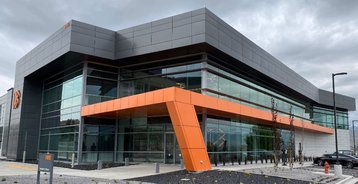 The 171,000 square foot (15,885 sqm) facility, first announced in August 2021, adds 100,000 sq ft (9,300 sqm) of raised flooring – 50,000 sq ft of which will be available on day one.
The project, located at DataBank's 23-acre Granite Point campus in Bluffdale, consists of two new data halls, expected to open in October of this year. The facility currently offers 11MW of power now, with another 11MW to come online in the future.
"Utah is quickly becoming one of the fastest growing tech hubs in the US," said Tony Qorri, DataBank's vice president of construction. "The state's prime real estate, low cost of living, and deep technology talent pool, make it an ideal location for start-ups. Additionally, its Internet speeds are among the fastest in the nation, which is attractive to start-ups as well as enterprises."
The company opened SLC5 in July 2020 and opened the data center's third hall in May 2021. At SLC5's opening Martynek said plans were already being drawn up for SLC6, and in May the company revealed intentions to build a seventh facility in the city.
2022 has seen DataBank acquire a data center it was previously leasing outside Denver, Colorado, and acquire four data centers in Houston, Texas, from CyrusOne for $670 million. It also announced the expansion of its Las Vegas, Irvine, and San Diego data centers. It recently bought a former manufacturing site in Atlanta that it plans to turn into a 40MW data center.
Last year DataBank went on an expansion spree after raising around $1 billion in secure notes across two raises, announcing plans to add more than 120,000 sq ft (11,000 sqm) and 15MW of capacity to existing locations across the US.
In June of this year DigitalBridge recapitalized DataBank and sold a stake in the company to investment firms Swiss Life Asset Management AG and EDF Invest.
More in Construction & Site Selection