DataBank has acquired a manufacturing facility and land in Atlanta, Georgia.
The DigitalBridge-owned company this week announced it had acquired an existing data center and 18 acres of land located at 200 Selig Drive. Terms of the deal were not disclosed, but CoStar reports the company paid $10.9 million for the property.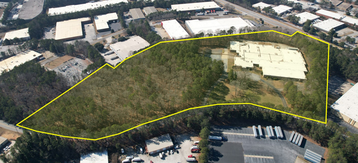 DataBank plans to build a new data center (ATL4) that will support 40MW of critical IT load and an initial footprint of 200,000+ square feet (18,580 sqm), with expansion room for the facility as needed. The site will be known as the 'Lithia Springs Campus'.
"ATL4 and the Lithia Springs Campus will greatly expand our capacity to serve the mission-critical IT infrastructure needs of customers in the Atlanta metro," said Raul K. Martynek, DataBank's CEO. "Long ago, we could see that Atlanta was becoming a pre-eminent data center market and we're proud to be part of the city's continued business and tech community growth."
The site seems to have previously belonged to Lathem Time Corporation – a maker of clocks, time cards, and employee tracking systems. The existing building was a factory, according to a LoopNet listing, it spans around 113,837 sq ft (10,575 sqm).
DataBank currently operates three data centers in the Atlanta area totaling 32MW and 136,000 sq ft(12,630 sqm) at full build-out. In December 2021 the company announced it was doubling the raised floor capacity of its ATL2/3 complex in Atlanta's West End.
2022 has seen DataBank acquire a data center it was previously leasing outside Denver, Colorado, and acquire four data centers in Houston, Texas, from CyrusOne in a now-closed deal for $670 million. It also announced the expansion of its Las Vegas, Irvine, and San Diego data centers.
Last year DataBank went on an expansion spree after raising around $1 billion in secure notes across two raises, announcing plans to add more than 120,000 sq ft (11,000 sqm) and 15MW of capacity to existing locations.
More in Construction & Site Selection