Cryptomining firm Compute North has sold some of its assets to rival mining company Crusoe Energy.
The company, which provides data center hosting services for cryptocurrency miners and blockchain companies, filed for Chapter 11 bankruptcy in Texas in September with the firm owing as much as $500 million to at least 200 creditors.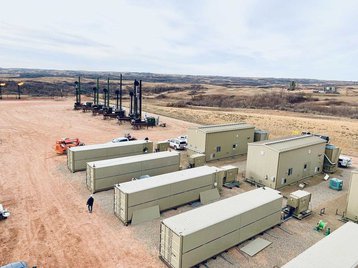 The sale of its container assets will generate just under $1.55 million for the Minnesota-based company, according to documents filed to bankruptcy court in the Southern District of Texas.
Crusoe has developed modules that can be deployed along oil & gas pipelines and powered by natural gas that would otherwise be burned off (also known as flaring).
Crusoe was founded in 2018 and raised $128 million in 2021 to expand its business, which now has more than 98 container-based data centers sitting at oil wells in North Dakota and Montana. Crusoe gathered a further $500 million this year, led by green fund G2 and this year acquired Great American Mining. It recently signed a licensing agreement with another crypto firm, Lancium, to share patents.
Compute North's 280MW mining facility in Texas was planned to be operational in April, but was held up by the approvals process. By the time it could launch, Bitcoin prices had plummeted -- and has only fallen further since -- and funding opportunities had dried up.
Founded in 2017, Compute North operates four US data centers; two in Texas in McCamey (280MW) and Big Spring, and one each in Kearney, Nebraska (100MW), and North Sioux City, South Dakota (6MW). A third 300MW facility was in development in Granbury, Texas. In February, Compute North raised $385 million, consisting of an $85 million Series C equity round and $300 million in debt financing.
The company's assets are worth between $100 million and $500 million, according to its Chapter 11 petition.
Compute North is not the only firm struggling amid high energy costs and a low Bitcoin value. Core Scientific has warned it could run out of money by the end of the year, while Iris Energy recently defaulted on some of its debts.